The Inventor and the Tycoon: The Murderer Eadweard Muybridge, the Entrepreneur Leland Stanford, and the Birth of Moving Pictures (Paperback)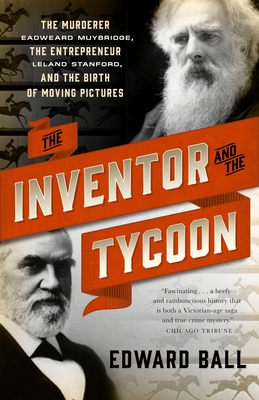 $16.95
Usually Ships in 1-5 Days
Description
---
A Chicago Tribune Noteworthy Book of the Year

Nearly 140 years ago, in frontier California, photographer Eadweard Muybridge captured time with his camera and played it back on a flickering screen, inventing the breakthrough technology of moving pictures. Yet the visionary inventor Muybridge was also a murderer who killed coolly and meticulously, and his trial became a national sensation. Despite Muybridge's crime, the artist's patron, railroad tycoon Leland Stanford, founder of Stanford University, hired the photographer to answer the question of whether the four hooves of a running horse ever left the ground all at once—and together these two unlikely men launched the age of visual media. Written with style and passion by National Book Award-winner Edward Ball, this riveting true-crime tale of the partnership between the murderer who invented the movies and the robber baron who built the railroads puts on display the virtues and vices of the great American West.
About the Author
---
Edward Ball is the author of several books of history and biography, including the bestselling National Book Award-winning Slaves in the Family. Born and raised in the South, he lives in Connecticut and teaches at Yale University.
Praise For…
---
"Fascinating . . . a beefy and rambunctious history that is both a Victorian-age saga and true crime mystery."
—Chicago Tribune 
 
"Engrossing. . . . [A] fascinating story, full of strange and surprising details. . . . Although Muybridge was a chameleon-like figure throughout his life, Ball uses exhaustive research and vivid details to pin him down so we can have a good look at him."
—The New York Times Book Review
 
"Superb. . . . Leland Stanford and Eadweard Muybridge were an odd couple. . . . A beautifully written account of the collaboration of these two ambitious, contentious and ultimately incompatible men."
—San Francisco Chronicle
 
"Rich in history. . . . Muybridge's projections were the beginnings of the media culture that holds us in thrall today."
—Newsday

"The Inventor and the Tycoon involves capitalism, money, murder, trains, horse racing, photography and the beginning of moving pictures. Ball has infused the famous and the infamous into a story so large it might as well be fiction."
—Seattle Post-Intelligencer

"Amusing and informative. . . . What lifts The Inventor and the Tycoon . . . is that both of the principals can lay claim to achievements of national, and one might even say global, significance. . . . Mr. Ball details the story of the two men's long association with sympathy and flair."
—The Wall Street Journal

"Engaging. . . . This story has all the elements of a fascinating HBO drama—wealth, greed, sex, adultery, genius, betrayal, murder, scandal and tragedy. At the center of Edward Ball's compelling yet complicated biographical saga of two formidable men during The Gilded Age of late 19th-century California is an unlikely alliance of invention whose peculiar tale is vividly telling of the place and times."
—USA Today

"[A] remarkable story of the alliance between the eccentric inventor of the motion picture and the mogul who built the nation's rails. It is a story that, for all its whirling parts and divagations, tells us a great deal about the crossroads of money and art in America. What is most interesting about this book is the making of an astonishing artist, the marvelous photographs that attest to his genius, the rousing good yarn at the nexus of industry and art."
—The Washington Post

"In The Inventor and the Tycoon , Ball, author of the National Book Award-winning Slaves in the Family, has brilliantly fused the stories of two larger-than-life figures into a single glittering object: part social-cultural history, part melodrama, part chronicle of American self-invention. one gallops through this book with undiminished ardor [and] Ball carefully sculpts prose of bright exuberance."
—The Boston Globe

"Sprawling and richly detailed. . . . The Inventor and the Tycoon tells the story of how wealthy mogul Leland Stanford and photographic wizard Edward Muybridge joined forces to create the moving picture, the technology that now dominates our image-flooded age. This nonfiction book, which reads like a Hollywood-style thriller, is set mainly in the City by the Bay, with a raucous history of westward railroad expansion (with Stanford as lead) thrown in for added depth. Fans of both early photography and the history of the West will be rewarded by the story Ball weaves together."
—The Seattle Times

"Ball tells this interesting tale of invention and mayhem in The Inventor and the Tycoon. Ball's book pairs the stories of Muybridge, gifted photographer and one of the founders of motion pictures, and Stanford, creator of the Central Pacific Railroad and the university that still bears his name. Detailed and thoroughly researched, The Inventor and the Tycoon is at its best describing the milieu of a frontier world where ordinary men like Leland Stanford could amass great fortunes, and where Edward Muybridge could find what genius he possessed (and evade justice in the process)."
—Star Tribune

"The Inventor and the Tycoon displays Ball's particular ability to mine history and create a compelling narrative that includes larger-than-life characters and reveals something about our inheritance."
—The Post & Courier

"National Book Award-winner Ball returns with a complex story about railroad tycoon Leland Stanford and the murdering man who for a time was his protégé, pioneering photographer Eadweard Muybridge. . . . A skillfully written tale of technology and wealth, celebrity and murder and the nativity of today's dominant art and entertainment medium."
—Kirkus Reviews