The Dog of the Marriage: Stories (Hardcover)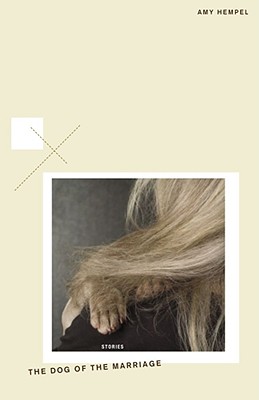 $20.00
Email or call for price.
Description
---
Amy Hempel's compassion, intensity, and illuminating observations have made her one of the most distinctive and admired modern writers. In three stunning books of stories, she has established a voice as unique and recognizable as the photographs of Cindy Sherman or the brushstrokes of Robert Motherwell. The Dog of the Marriage, Hempel's fourth collection, is about sexual obsession, relationships gone awry, and the unsatisfied longings of everyday life.
In "Offertory," a modern-day Scheherazade entertains and manipulates her lover with stories of her sexual encounters with a married couple as a very young woman. In "Reference # 388475848-5," a letter contesting a parking ticket becomes a beautiful and unnerving statement of faith. In "Jesus Is Waiting," a woman driving to New York sends a series of cryptically honest postcards to an old lover. And the title story is a heartbreaking tale about the objects and animals and unmired desires that are left behind after death or divorce.
These nine stories teem with wisdom, emotion, and surprising wit. Hempel explores the intricate psychology of people falling in and out of love, trying to locate something or someone elusive or lost. Her sentences are as lean, original, and startling as any in contemporary fiction.
Praise For…
---
"Amy Hempel is one of our masters of offhandedly rendered dire emotional states. Her fiction is breath-catchingly tender and funny. With The Dog of the Marriage she turns her stunningly dispassionate and compassionate eye to erotic love and longing, to characters who let passion prevail. The stories that result are both spectacularly intimate and beautifully built, and bring us back to the question that powers all her work: Can we take each other in?"
-- Jim Shepard, author of Project X and Love and Hydrogen




"Tumble Home is the kind of book you can open anywhere and the prose wins your absolute trust. There's not a soggy patch or word. It's wonderful. I love it."
-- Alice Munro, author of Runaway




"In airports and on trains, the toughest part of reading The Dog of the Marriage is how much your jaw muscles ache from the effort it takes to not laugh and cry in front of strangers. Amy Hempel is my god among writers."
-- Chuck Palahniuk, author of Fight Club and Haunted




"Hempel writes with an effortless wit...showing us the larger shapes of our lives by capturing their most fleeting and fragmentary moments."
-- Elizabeth Gleick, The New York Times Book Review