Frenemies: The Epic Disruption of the Ad Business (and Everything Else) (Paperback)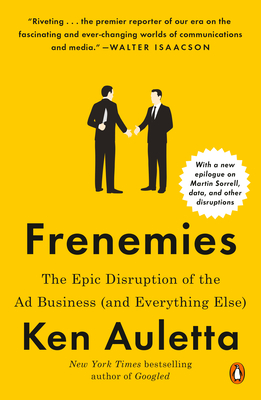 $17.00

On Our Shelves; Typically Ships in 1 - 2 Days
Description
---
An intimate and profound reckoning with the changes buffeting the $2 trillion global advertising and marketing business from the perspective of its most powerful players, by the bestselling author of Googled

Advertising and marketing touches on every corner of our lives, and the industry is the invisible fuel powering almost all media. Complain about it though we might, without it the world would be a darker place. But of all the industries wracked by change in the digital age, few have been turned on their heads as dramatically as this one. Mad Men are turning into Math Men (and women--though too few), an instinctual art is transforming into a science, and we are a long way from the days of Don Draper.

Frenemies is Ken Auletta's reckoning with an industry under existential assault. He enters the rooms of the ad world's most important players, meeting the old guard as well as new powers and power brokers, investigating their perspectives. It's essential reading, not simply because of what it reveals about this world, but because of the potential consequences: the survival of media as we know it depends on the money generated by advertising and marketing--revenue that is in peril in the face of technological changes and the fraying trust between the industry's key players.
About the Author
---
Ken Auletta has written the Annals of Communications column for The New Yorker since 1992. He is the author of twelve books, including Three Blind Mice: How the TV Networks Lost Their Way; Greed and Glory on Wall Street: The Fall of The House of Lehman; and World War 3.0: Microsoft and Its Enemies. In naming him America's premier media critic, the Columbia Journalism Review said, "no other reporter has covered the new communications revolution as thoroughly as has Auletta." He lives in Manhattan with his wife.
Praise For…
---
"A brightly readable, cinematic tour through the seismic changes currently altering the face and the very nature of the marketing and advertising professions. . . . the most vivid account to date of what may be the most crucial moment in advertising history – the moment when data went from servant to master." — Christian Science Monitor
 
"[A] timely dive into an industry in tumult. . . . Auletta, a veteran New York writer who has covered both Wall Street and the media for decades, does a remarkable job of digging into the personalities and the covert deals."—Financial Times

"Auletta masterfully maps the rapidly evolving topography of the advertising industry. . . . Perhaps most prescient is Auletta's spot-on analysis of the interplay between traditional and social media. . . . Other fascinating topics include how efforts such as Citibank's Citi Bike bike-sharing program in New York City and YouTube Red represent new forms of advertising; how Facebook fell prey to Russian attempts to influence the 2016 U.S. presidential election; and how smartphones have revolutionized advertising. Intelligent and well researched, Auletta's lively survey serves as an excellent primer to a brave new world."—Publishers Weekly
 
"Auletta delves into how disruptions are impacting the most powerful agencies and personalities in the business and changing the way advertising is bought, sold, and created. With journalistic precision, the author profiles the executives and companies that have dominated the advertising, marketing, and media industries over the past decade before pivoting to describe how relatively new influencers such as Facebook and Google have overturned conventional thinking."—Library Journal
 
"However distant, even repugnant, the advertising and marketing business might seem to the average consumer, it is the fuel that drives a First World economy, Auletta argues. . . . Astute, colorful, fully informed. . . . an important if utterly disquieting book."—Booklist, starred review

"In this well-researched, personality-packed account, [Ken Auletta] examines the baffling choices facing advertisers (hundreds of media channels, billions of smartphones, etc.) and the technological threats to agencies, from ad blockers to targeted, computerized ad-buying. . . .  [A] lively narrative, which delves into the major agencies and most corners of the business. . . . A bright, informative take on an industry in turmoil."—Kirkus, starred review

"Now more than ever, advertising is the lifeblood that sustains most journalism, television, and entertainment. But with the advent of Google, Facebook, and other digital players, the advertising industry is being fundamentally disrupted. Ken Auletta brilliantly chronicles this drama with his usual combination of behind-the-scenes reporting filled with colorful characters, surprising revelations, and judicious insights. This riveting book shows again why Auletta is the premier reporter of our era on the fascinating and ever-changing worlds of communications and media." — Walter Isaacson
 
"Ken Auletta is a wizard at deconstructing the advertising business of yesterday today and tomorrow.  If you're in or interested in media, toss this book at your peril…" —Barry Diller
 
"Frenemies really goes deep in examining the complexities of our industry from multiple points of view. You feel like you have a ringside seat in an industry that is going through enormous disruption. Well done!" — Bill Koenigsberg, chairman of the American Association of Advertising Agencies
 
"For any Madmen fan who wants to know what happened next, Ken Auletta's book is an entertaining, insightful and occasionally terrifying dive into the heart of 21st century advertising.  Auletta is the Bob Woodward of the media industries; his access to the inside story is unparalleled, and his story-telling is a treat." — Tim Wu