The Bodies in Person: An Account of Civilian Casualties in American Wars (Hardcover)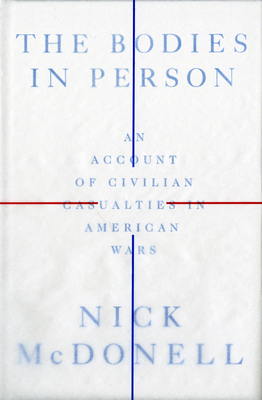 $28.00

Usually Ships in 1-5 Days
Description
---
Since the beginning of the wars in Iraq and Afghanistan, uncounted thousands of civilians have died in the fighting and as a result of the destruction. These are deaths for which no one assumes responsibility and which have been presented, historically, as fallout. No one knows their true number.
 
In The Bodies in Person, Nick McDonell introduces us to some of the civilians who died, along with the rescue workers who tried to save them, U.S. soldiers grappling with their deaths, and everyone in between. He shows us how decent Americans, inside and outside the government and military, looked away from the mounting death toll, even as they claimed to do everything in their power to prevent civilian casualties. 
 
With a novelist's eye — and hundreds of hours of recorded interviews — McDonell brings us the untold story of the innocent dead in America's ongoing wars, from leveled cities to drone operation centers to Capitol back rooms. As we follow him around the world, The Bodies in Person raises questions not only about what it means to be an American, but about the value of a life, what it means to risk one, and what is owed afterward.
About the Author
---
Nick McDonell is a novelist and journalist. Born in New York City in 1984, he studied at Harvard and Oxford. He is the author of several books, including the novel Twelve, which was a New York Times bestseller.
Praise For…
---
Praise for The Bodies in Person:

"Striking…pulsating with attention to moral principle."
—The New Republic

"This first-hand contemplation of death in war is a gift to future historians and a gesture to moral philosophers. It helps us to see the world as it is while gently encouraging us to ask how it might be better."
—Timothy Snyder, author of On Tyranny

"Some of the finest war reporting by an American that I have ever read."
—Dennis Covington, The American Scholar

"Dark and electric.. part-Dispatches odyssey, part-Behind the Beautiful Forevers exploration of justice and inequality, the book works because of McDonell's restraint. He doesn't condemn. But he also refuses to equivocate. He shows, and tells. And shows and tells. And shows. And tells. Until it hurts."
—Matt Gallagher, Time

"McDonell's newest book, The Bodies in Person: An Account of Civilian Casualties in American Wars, positions itself somewhere between reportage and social analysis, moving journalistically from the streets of Mosul and Baghdad to a drone-warfare control room. The degree of access is incredible: McDonell embeds with a civil defense squad, digging people out of air-struck buildings while dodging ISIS snipers; he interviews senior American officers, visits refugee camps, goes on patrol, repeatedly speaks on the phone to a Taliban spokesman who turns out to be several people using a single cover name. But McDonell is clearly aiming at something bigger than the curation of uncomfortable facts; he's interested in the big moral ideas underpinning the making and instantiating of American foreign policy. There cannot be many people with a more comprehensive view of the War on Terror, and his engagement with the debate over what a more ethical foreign policy might look like is worth considering."—The Point


"This is an extremely well-reported, extremely tough-minded look at how we Americans think about, or don't think about, civilian deaths in our recent foreign wars. Just as importantly, it paints vivid portraits of the Iraqi army and police officers tasked with cleaning up after our bombs. After reading The Bodies in Person, the human impact of our way of fighting ISIS, among other targets, will never leave your conscience— and never should." —Dave Eggers, author of The Monk of Mokha and What Is the What

"The Bodies in Person is a haunting work of reportage from the frontlines of America's wars, in the spirit of classic writing on Vietnam, that delves deep into our collective martial psyche. McDonell is a brilliant reporter who rescues these people from anonymity, which makes Bodies a crucial first step in their pursuit of justice. This is the most important book on the human cost of America's wars to appear in decades."
—Anand Gopal, author of No Good Men Among the Living

"Beware. This masterpiece will rob you of the Germans' wartime excuse: you didn't know. McDonell exposes Pentagon casualty statistics for what they are: real people,  human beings like you and me with names, families, vocations, loves, hates and fears. This is war, and it has rarely been better portrayed." 
—Charles Glass, author of Tribes with Flags and The Deserters

"With deep and wide reporting, Nick McDonell plots the origin, trajectory, and impact of U.S. airstrikes in Iraq and Afghanistan. We meet the people who request, orchestrate, and authorize them, as well as those who dread, survive, and are killed by them. Throughout it all, McDonell relentlessly probes his own complicity—and, by extension, ours. Both lyrical and incisive, The Bodies in Person is a forceful reckoning with America's favorite way of waging war."
—Luke Mogelson, author of These Heroic, Happy Dead 

"Grim indeed and sometimes gruesome—and a brave work of investigation."
—Kirkus Reviews