The Longest Silence: A Life in Fishing (Paperback)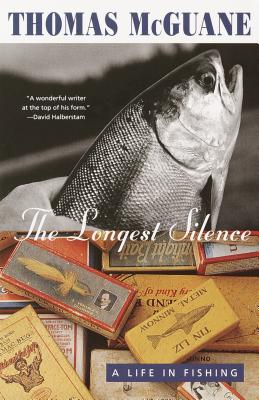 $16.00
Email or call for price.
Description
---
From the highly acclaimed author of Ninety-Two in the Shade and Nothing but Blue Skies comes this collection of breathtakingly exquisite essays borne of a lifetime spent fishing.

The thirty-three essays in The Longest Silence take us from the tarpon of Florida to the salmon of Iceland, from the bonefish of Mexico to the trout of Montana. They bring us characters as varied as a highly literate Canadian frontiersman and a devoutly Mormon river guide and address issues ranging from the esoteric art of tying flies to the enduring philosophy of a seventeenth-century angler. Infused with a deep experience of wildlife and the outdoors, both reverent and hilarious by turns, The Longest Silence sets the heart pounding for a glimpse of moving water and demonstrates what dedication to sport reveals about life.
About the Author
---
Thomas McGuane lives in McLeod, Montana. He is a member of the American Academy of Arts and Letters and the author of ten novels, three works of nonfiction, and three collections of stories.
Praise For…
---
"Thomas McGuane writes better about fishing than anyone else in the history of mankind."–Jim Harrison

"McGuane writes with wit, grit and grace; the result is a book as entertaining as any you will find on any subject."–Seattle Times

"A book worth shouting about."–Tom Brokaw