Three Blind Mice: How the TV Networks Lost Their Way (Paperback)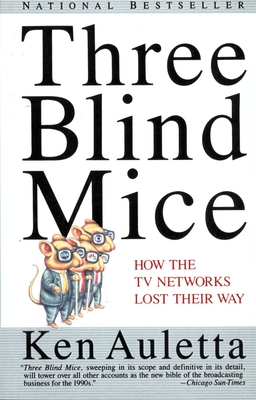 $23.00

Usually Ships in 1-5 Days
Description
---
What happened to network television in the 1980s? How did CBS, NBC, and ABC lose a third of their audience and more than half of their annual profits?

Ken Auletta, author of Greed and Glory on Wall Street, tells the gripping story of the decline of the networks in this epically scaled work of journalism. He chronicles the takeovers and executive coups that turned ABC and NBC into assets of two mega-corporations and CBS into the fiefdom of one man, Larry Tisch, whose obsession with the bottom line could be both bracing and appalling.

Auletta takes us inside the CBS newsroom on the night that Dan Rather went off-camera for six deadly minutes; into the screening rooms where NBC programming wunderkind Brandon Tartikoff watched two of his brightest prospects for new series thud disastrously to earth; and into the boardrooms where the three networks were trying to decide whether television is a public trust or a cash cow.

Rich in anecdote and gossip, scalpel-sharp in its perceptions, Three Blind Mice chronicles a revolution in American business and popular culture, one that is changing the world on both sides of the television screen.
About the Author
---
Ken Auletta has been the "Annals of Communication" columnist for The New Yorker since 1992. He is the author of seven previous books, including three national bestsellers. In ranking him as America's premier media critic, the Columbia Journalism Review concluded, "No other reporter has covered the new communications revolution as thoroughly as has Auletta."  He has written for various newspapers and magazines, and appeared regularly as a television interviewer and analyst. He started writing for The New Yorker in 1977.  He grew up in Coney Island and now lives in New York City with his wife and daughter.
Praise For…
---
"Three Blind Mice may be the most thorough probe ever into how the TV industry works." -- Newsweek



"This is one of the best books on television. Maybe the best."

-- Dallas Morning News

"The book's fascination and fun lie in the detail -- Mr. Auletta's extraordinary access to the principal players, his eye for color, ear for anecdote and reporter's instinct for conflict." -- Wall Street Journal

"It's a tour de force of reporting" -- Business Week