Democracy in America (Everyman's Library Classics Series) (Hardcover)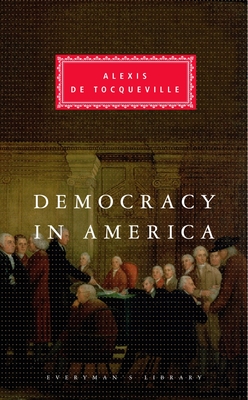 $30.00
Usually Ships in 1-5 Days
Description
---
Democracy in America has had the singular honor of being even to this day the work that political commentators of every stripe refer to when they seek to draw large conclusions about the society of the United States. Alexis de Tocqueville, a young French aristocrat, came to the young nation to investigate the functioning of American democracy and the social, political, and economic life of its citizens, publishing his observations in 1835 and 1840. Brilliantly written and vividly illustrated with vignettes and portraits, Democracy in America is far more than a trenchant analysis of one society at a particular point in time. What will most intrigue modern readers is how many of Tocqueville's observations still hold true: on the mixed advantages of a free press, the strained relations among the races, and the threats posed to democracies by consumerism and corruption.
So uncanny is Tocqueville's insight and so accurate are his predictions, that it seems as though he were not merely describing the American identity but actually helping to create it.


About the Author
---
Alexis de Tocqueville was born in 1805 to a noble French family that had survived the French Revolution. His father gained some political power under the reign of the Bourbons, and after the July Revolution of 1830, the family was exiled along with the king. Tocqueville, then twenty-five years old, stayed in France, swearing allegiance to the new government. Shortly thereafter he and a friend, Gustave de Beaumont, sought and received a government assignment to study the prison system of the United States. They arrived in America in 1831. After extensive travels across the young nation, Tocqueville wrote Democracy in America (published in two volumes in 1835 and 1840). The publication of the first volume made Tocqueville a well-known figure, but he led a quiet life, accepting modest governmental posts, traveling around Europe, and marrying an Englishwoman. In 1848, Tocqueville once again rose to political prominence after a prescient speech that foretold of revolution. After serving through the massive upheavals and overthrows of government, Tocqueville retired from political life in 1849. Always weak in health, his lung disease grew progressively worse from that period on. Moving south several times on doctor's recommendations, Tocqueville succumbed to death in 1859, in Cannes.
Praise For…
---
"No better study of a nation's institutions and culture than Tocqueville's Democracy in America has ever been written by a foreign observer." –The New York Times

"The Bradley edition of Tocqueville's classic is the best now available in English." –Charles A. Beard

"Professor Bradley's edition should remain the standard one for our time." –F. O. Matthiessen

With an Introduction by Alan Ryan