The Yellow Pad: Making Better Decisions in an Uncertain World (Hardcover)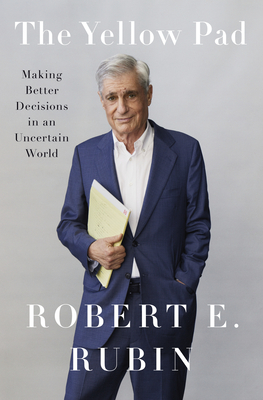 $32.00

Typically Ships in 1 - 2 Days
Description
---
Robert Rubin, former secretary of the Treasury and co-chairman of Goldman Sachs, shares thoughts on decision-making developed over more than six decades in markets, business, government, and politics, and offers readers an astute and original guide for navigating uncertain times

In 1958, as a college sophomore, Robert Rubin took a class that changed his life. The class was introduction to philosophy, and the professor, Raphael Demos, instilled in his students an idea that was simple yet profound: There is no such thing as certainty. For Rubin, this led to a critically important question: How can we make sound decisions in a fundamentally uncertain world?

While serving in some of the most significant roles in markets, business, and government, Rubin has grappled with that question. Time and again, when faced with a high-stakes decision, he turned to his most trusted tool: a simple yellow legal pad. Rubin's yellow pad (or more recently, his iPad) became an expression of a larger decision-making philosophy that has both lasted and shaped a lifetime. In The Yellow Pad, Rubin lays out that philosophy with depth and detail, and presents a compelling intellectual framework for confronting some of the most difficult issues we face today.

The Yellow Pad contains a former Treasury secretary's approach to economic policymaking. A former Goldman Sachs senior partner's approach to personal investing and understanding risk. A former director of the National Economic Council's approach to managing people in both private- and public-sector organizations. And much more. Yet despite his lifetime of experiences, Rubin remains refreshingly open-minded, interested in exploring ideas rather than promoting ideologies. With its combination of wisdom and relevance, The Yellow Pad is an essential guide for anyone looking to make better decisions in life, work, and public policy.
About the Author
---
Robert E. Rubin served as the 70th U.S. Treasury Secretary from 1995 to 1999, after serving as the first director of the White House National Economic Council. In these roles, he helped achieve the first federal budget surplus in a generation, address international financial crises, and resolve a debt-ceiling standoff, among much else. Rubin is the author of In an Uncertain World: Tough Choices from Wall Street to Washington, a New York Times bestseller. He spent twenty-six years at Goldman Sachs, rising to co-senior partner, and was a senior counselor and board member at Citigroup. He currently serves as counselor to the independent investment advisory firm Centerview Partners, as co-chairman emeritus of the Council on Foreign Relations, and as chair of the Local Initiatives Support Corporation. Rubin is a founder of The Hamilton Project, at the Brookings Institution, which promotes broad-based economic growth. A former member of the Harvard Corporation, he graduated from Harvard summa cum laude and from Yale Law School.
Praise For…
---
"As Secretary of the Treasury in the last decade of the 20th century, Robert Rubin presided over what we can now see as an unusually prosperous and stable era in American life. Now, drawing on his years in government and in the private sector, Rubin offers us an astute, valuable, and illuminating guide to decision-making and, in a sense, to life itself in an uncertain world." —Jon Meacham, author of And There Was Light: Abraham Lincoln and the American Struggle
 
"Robert Rubin's exuberant praise for a classics professor who taught him how to think about thinking in a world of uncertainty is a powerful reminder of the importance of studying humanities. This engaging, eloquent, and accessible work provides an invaluable guide not only for decision makers in government and business but for all of us in our daily lives." —Doris Kearns Goodwin, author of Leadership: In Turbulent Times
 
"In The Yellow Pad, Bob Rubin makes the compelling case for pragmatism over emotion and ideology, and offers practical advice for everyone who has to make difficult decisions in a complicated world." —Anne Applebaum, author of Twilight of Democracy: The Seductive Lure of Authoritarianism

"Nobody has been in the middle of more economic policy decision-making for longer than Bob Rubin. Readers are lucky to get his great perspectives and principles in his new book "The Yellow Pad" and are sure to find them useful as they face their own tough choices." —Ray Dalio, Founder of Bridgewater Associates, author of Principles
 
"From the wisdom he learned in a college course in philosophy to the lessons he picked up during a lifetime in government and banking, Robert Rubin has crafted a powerful tool for dealing in a world of uncertainty. This book explains how to use 'probabilistic thinking.'  It's a very interesting idea, and also one that's useful for business and for life. I wish I'd known this years ago!" —Walter Isaacson, Professor of History at Tulane University, author of The Code Breaker

"The Yellow Pad offers an outstanding collection of lessons learned during a lifetime of leadership on Wall Street and in Washington. It is indispensable for navigating challenges and making decisions in difficult times." —Ken Chenault, Chairman and Managing Director of General Catalyst, former Chairman and CEO of American Express