A Private Spy: The Letters of John le Carré (Hardcover)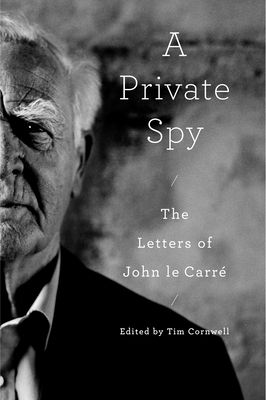 $40.00

Usually Ships in 1-5 Days
Description
---
An archive of letters written by the late John le Carré, giving readers access to the intimate thoughts of one of the greatest writers of our time

The never-before-seen correspondance of John le Carré, one of the most important novelists of our generation, are collected in this beautiful volume. During his lifetime, le Carré wrote numerous letters to writers, spies, politicians, artists, actors and public figures. This collection is a treasure trove, revealing the late author's humour, generosity, and wit--a side of him many readers have not previously seen.
About the Author
---
JOHN LE CARRÉ was born in 1931. For six decades he wrote novels that came to define our age. He published his debut novel, Call for the Dead, in 1961 while still a secret servant. His third novel, The Spy Who Came in from the Cold, secured him a worldwide reputation, which was consolidated by the acclaim for his trilogy Tinker Tailor Soldier Spy, The Honourable Schoolboy, and Smiley's People. At the end of the Cold War, le Carré widened his scope to explore an international landscape including the arms trade and the War on Terror. His memoir, The Pigeon Tunnel, was published in 2016 and the last George Smiley novel, A Legacy of Spies, appeared in 2017. Silverview is his twenty-sixth novel. John le Carré died on December 12, 2020.

Praise For…
---
Praise for A Private Spy:

"A Private Spy, a collection of correspondence spanning much of his [John le Carré's] life, offers a fresh look at his brilliance."
—New York Times

"[Le Carré's] voluble brilliance is on display in the collection of effusive, guarded, witty, tortured, ebullient, terse, sniffy, pompous, needy, generous, phony, moving, and highly entertaining letters... each page of which reads as though it were written without a blotted word."
—Los Angeles Review of Books

"It's glimpses of the master novelist most readers will be eager for, and they'll find them in his letters to family and avid readers [in A Private Spy]."
—Washington Post

"A fascinating look at one of the 20th century's most fascinating figures."
—CrimeReads

"Le Carré was perhaps the most thoughtful and erudite purveyor of the spy novel in the 20th century, a crackerjack storyteller who elevated the thriller to literary heights…the engrossing letters in A Private Spy—curated with great affection and care by [Tim] Cornwell, who sadly passed away in May 2022—are not unlike an exquisite bespoke suite crafted by a master."
—BookPage

"[A Private Spy is] a portrait of the famed spy novelist via a lifetime of correspondence…Meticulously edited and expansively annotated by le Carré's son, Cornwell, this collection lands like a biography…Le Carré's wry modesty and cleareyed insight into human nature consistently shine through…invaluable for fans."
—Kirkus

"Engaging, insightful, wise and gloriously witty." 
—DecaturDaily