A Documentary History of the United States (11th Edition) (Paperback)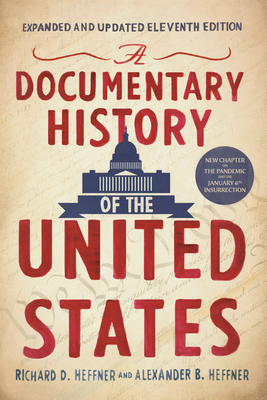 $20.00

Typically Ships in 1 - 2 Days
Description
---
"An indispensable contribution to the understanding of our heritage." – Robert A. Caro

"This insightful collection will fascinate, delight, and challenge all who are interested in the progress of the American nation."—Annette Gordon-Reed

Here, in a single volume, are the documents (speeches, letters, tweets, Supreme Court decisions, and more) that have forged American history. This 11th edition is now updated with a new chapter on the COVID-19 pandemic, the January 6, 2021 insurrection, and the Biden presidency.

Accompanied by interpretations of their significance by noted historian Richard D. Heffner and journalist Alexander B. Heffner, the important documents in this book include:

   • The Declaration of Independence
   • The Constitution of the United States
   • Frederick Douglass' "What, to the Slave, is the Fourth of July?"
   • The Monroe Doctrine
   • The Emancipation Proclamation
   • Woodrow Wilson's War Message to Congress
   • Franklin D. Roosevelt's "Four Freedoms" speech
   • John F. Kennedy's inaugural address
   • Martin Luther King, Jr.'s letter from the Birmingham City Jail
   • The National Organization for Women (NOW) Statement of Purpose
   • Roe v. Wade Supreme Court Decision
   • Documents related to September 11 and the Iraq War
   • Barack Obama's "A More Perfect Union" speech
   • Articles of Impeachment against Donald J. Trump

More Than One Million Copies Sold!
About the Author
---
Richard D. Heffner taught history and political science at the University of California, Sarah Lawrence College, the New School for Social Research, and NYU. University Professor of Communications and Public Policy at Rutgers, he also produced and moderated his prizewinning public television series, Richard Heffner's Open Mind, for fifty years.

Alexander B. Heffner is a journalist whose writing has appeared in The Wall Street Journal,The Washington Post, The Boston Globe, The Philadelphia Inquirer, USA Today, and Newsday among other leading publications. He has been interviewed about politics, education and stories in the news by PBS, C-SPAN, CNN and the BBC, among other national and local broadcast venues. He is the current host of Open Mind, the weekly PBS talk show.
Praise For…
---
Praise for A Documentary History of the United States

"This insightful collection will fascinate, delight, and challenge all who are interested in the progress of the American nation over the years. The broad sweep of U.S. history comes alive in this display and analysis of documents that have helped to create American society as we know it."—Annette Gordon-Reed, author of Pulitzer Prize–winning of The Hemingses of Monticello

"A portable canon of American documents that take us across the depth and breadth of our national experience. Here is fertile soil for exploring our past and imagining our future. Present crises notwithstanding, you cannot spend time within these pages and be skeptical of our capacity to overcome, survive, and thrive in the endless, vexing, and robust pursuit of a more perfect union."—Bill Moyers, broadcaster and former White House Press Secretary

"For those who want the raw materials of American history, here is the invaluable source. An indispensable contribution to the understanding of our heritage."—Robert A. Caro, author of the Pulitzer Prize–winning The Power Broker and the #1 New York Times bestseller Master of the Senate

"Imaginatively selected and judiciously annotated, the documents in this collection capture the full range of the nation's colorful, consequential, and often contentious history. Simply the best such anthology available."—David M. Kennedy, author of the Pulitzer Prize–winning Freedom from Fear

"A Documentary History of the United States presents the vital documents of American history with incisive and informed commentary—an invaluable resource for the student, the teacher, and the history buff."—Arthur Schlesinger, Jr., Pulitzer Prize and National Book Award–winning author of A Thousand Days and A Life in the 20th Century