Beautiful Country: A Memoir of an Undocumented Childhood (Paperback)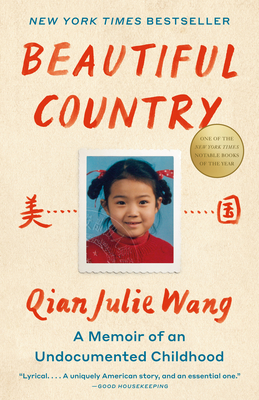 $18.00

Usually Ships in 1-5 Days
Staff Reviews
---
For fans of Educated and The Glass Castle, Beautiful Country is an inspiring coming-of-age story about a young Chinese immigrant bracing prejudice, poverty, language barriers, and fear. The memoir is told through the eyes of seven year old Qian Julie Wang, whose undocumented parents work in sweatshops and sushi factories, struggle with English, and fear deportation. Qian is left to find her own way, seeking solace through books. Compelling, sensitive, and ultimately, hopeful.
— Eve
September 2021 Indie Next List
---
"In this brutally honest coming-of-age memoir, Qian Julie Wang comes to terms with the deprivations and struggles of her undocumented Chinese upbringing in New York City in the 1990s."
— Kayleen Rohrer, InkLink Books, East Troy, WI
Description
---
A NEW YORK TIMES BEST SELLER • The moving story of an undocumented child living in poverty in the richest country in the world—an incandescent debut from an astonishing new talent • A TODAY SHOW #READWITHJENNA PICK

In Chinese, the word for America, Mei Guo, translates directly to "beautiful country." Yet when seven-year-old Qian arrives in New York City in 1994 full of curiosity, she is overwhelmed by crushing fear and scarcity. In China, Qian's parents were professors; in America, her family is "illegal" and it will require all the determination and small joys they can muster to survive.

In Chinatown, Qian's parents labor in sweatshops. Instead of laughing at her jokes, they fight constantly, taking out the stress of their new life on one another. Shunned by her classmates and teachers for her limited English, Qian takes refuge in the library and masters the language through books, coming to think of The Berenstain Bears as her first American friends. And where there is delight to be found, Qian relishes it: her first bite of gloriously greasy pizza, weekly "shopping days," when Qian finds small treasures in the trash lining Brooklyn's streets, and a magical Christmas visit to Rockefeller Center—confirmation that the New York City she saw in movies does exist after all.

But then Qian's headstrong Ma Ma collapses, revealing an illness that she has kept secret for months for fear of the cost and scrutiny of a doctor's visit. As Ba Ba retreats further inward, Qian has little to hold onto beyond his constant refrain: Whatever happens, say that you were born here, that you've always lived here.

Inhabiting her childhood perspective with exquisite lyric clarity and unforgettable charm and strength, Qian Julie Wang has penned an essential American story about a family fracturing under the weight of invisibility, and a girl coming of age in the shadows, who never stops seeking the light.
About the Author
---
QIAN JULIE WANG is a graduate of Yale Law School and Swarthmore College. Formerly a commercial litigator, she is now managing partner of Gottlieb & Wang LLP, a firm dedicated to advocating for education and civil rights. Her writing has appeared in publications such as The New York Times and The Washington Post. She lives in Brooklyn with her husband and their two rescue dogs, Salty and Peppers.
Praise For…
---
A NEW YORK TIMES NOTABLE BOOK • ONE OF THE BEST BOOKS OF THE YEAR: The New York Times, NPR, Publishers Weekly, The Guardian, Good Housekeeping, She Reads, and more • One of President Obama's Favorite Books of the Year

"Incredibly important, exquisitely written, harrowing. . . Beautiful Country tells [Wang's] story, well, quite beautifully. It is not only Wang's mastery of the language that makes the story so compelling, but also the passionate yearning for empathy and understanding. Beautiful Country is timely, yes, but more importantly it is a near-masterpiece that will make Qian Julie Wang a literary star."—Shondaland

"For fans of Angela's Ashes and The Glass Castle."—Newsday

"[An] exquisitely crafted memoir."—Oprah Daily

"A heartbreaking and intimate memoir... the storytelling from a young Qian's perspective is riveting."—Politico

"This unforgettable memoir is eye-opening to the nth degree."—Real Simple

"Elegantly affecting."—The Guardian

"A coming-of-age memoir about an undocumented Chinese girl growing up in New York's Chinatown, this lyrical book is full of small moments of joy, heartbreaking pain and the struggles of a family trying to survive in the shadows of society. It's a uniquely American story, and an essential one."—Good Housekeeping

"An astounding memoir from a debut author that you're not going to want to miss."—PopSugar

"[Qian Julie Wang] is remarkable, and her story is a must-read."—Alma

"An amazing story of the emotional and physical toll of lives lived in the enforced shadows of anti-immigrant America."—Daily Kos

"Wang's voice is powerful and the writing is absolutely gorgeous." —Emma Straub, author of This Time Tomorrow

"Beautiful Country rings with power and authenticity. Wang's searing exploration reveals how she and her family were forced to navigate the yawning cracks in the American Dream. An eloquent, thought-provoking and touching memoir."—Jean Kwok, author of Girl in Translation and Searching for Sylvie Lee

"Heartrending, unvarnished, and powerfully courageous, this account of growing up undocumented in America will never leave you."—Gish Jen, author of The Resisters

"Deeply compelling…I was moved by the love and resilience of this family thrust into darkness…that casts an urgent light on a reality that extends way beyond America's borders."—Hisham Matar, Pulitzer Prize-winning author of The Return

"A potent testament to the love, curiosity, grit, and hope of a courageous and resourceful immigrant child. Engaging readers through all five senses and the heart, Wang's debut memoir is a critical addition to the literature on immigration as well as the timeless category of childhood memoir."—Kirkus Reviews, *Starred Review*

"Extraordinary… With immense skill, Wang parses how her family's illegal status blighted nearly every aspect of their life . . .While Wang's story of pursuing the American dream is undoubtedly timeless, it's her family's triumph in the face of "xenophobia and intolerance" that makes it feel especially relevant today. Consider this remarkable memoir a new classic."—Publishers Weekly, *Starred Review*

"The writing is sparse, stylish, sometimes harrowing and sometimes humorous as she narrates experiences that are incredibly common but rarely captured with this level of artful control. It's shaping up to be one of the best memoirs of the year."—Bookpage, *Starred Review*

"[A] powerful debut. . . [Wang] movingly tells how undocumented families like hers are often overlooked and their experiences ignored. A haunting memoir of people and places that will stay with readers long after the last page."—Library Journal