To Risk It All: Nine Conflicts and the Crucible of Decision (Hardcover)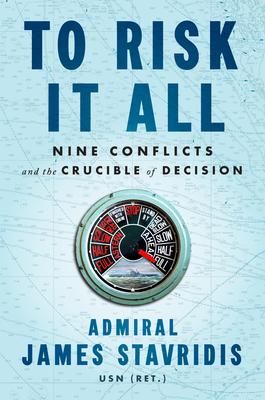 $28.00

Usually Ships in 1-5 Days
Description
---
From one of the great naval leaders of our time, a master class in decision-making under pressure through the stories of nine famous acts of leadership in battle, drawn from the history of the United States Navy, with outcomes both glorious and notorious

At the heart of Admiral James Stavridis's training as a naval officer was the preparation to lead sailors in combat, to face the decisive moment in battle whenever it might arise. In To Risk it All, he offers up nine of the most useful and enthralling stories from the US Navy's nearly 250-year history, and draws from them a set of insights that we can all put to use when confronted with fateful choices.
Conflict. Crisis. Risk. These words have a distinct meaning in a military context that we hope will never apply identically in our own lives. But at the same time, as Admiral Stavridis shows with great clarity, many lessons are universal.
To Risk it All is filled with thrilling and heroic exploits, but it is anything but a shallow exercise in myth burnishing. Every leader in this book has real flaws, as all humans do, and the stories of failure, or at least the decisions that have been defined as such, are as crucial as the stories of success. In the end, when this master class is concluded, we will be better armed for hard decisions both expected and not.
About the Author
---
Admiral Jim Stavridis, USN (Ret.) spent more than thirty years in the US Navy, rising to the rank of four-star admiral. He was Supreme Allied Commander at NATO and previously commanded US Southern Command, overseeing military operations through Latin America. At sea, he commanded a Navy destroyer, a destroyer squadron, and an aircraft carrier battle group in combat. He holds a PhD from the Fletcher School of Law and Diplomacy at Tufts University, where he recently served five years as dean. He received fifty medals in the course of his military career, including twenty-eight from foreign nations. He has published eleven other books, including 2034: A Novel of the Next World War, with Elliot Ackerman, and is chief international analyst for NBC News and a contributing editor for Time magazine. He is currently vice chair, global affairs, and managing director of the Carlyle Group and the chair of the board of the Rockefeller Foundation.

Praise For…
---
"Action-packed and colorful . . . Retired U.S. Navy admiral Stavridis unpacks nine instances of critical decision-making in this insightful mix of naval history and leadership guide . . . Readers will come away both entertained and informed." —Publishers Weekly

"Stavridis imbues his evaluations of the highlighted decisions with his own wealth of knowledge and command experience in this fascinating work of military history and biography." —Booklist

"Stavridis works hard to find common threads among his subjects, and each chapter includes insights into their characters, stressing those qualities responsible for their triumphs, which readers can put to use in their own lives. An expert in his field, the author is not shy about deploring character defects that tarnished some achievements. . . . Admiring accounts of some genuinely admirable American sailors." —Kirkus

"I served in the Department of Defense with Admiral Jim Stavridis and his unique ability to offer incisive insights based on history, military judgement, and risk analysis made him an invaluable member of the team. Reading To Risk It All takes us on a voyage into danger and the fast decisions that extraordinary leaders had to make under extreme pressure—it is full of lessons for anyone who aspires to lead well." —Michèle Flournoy, Former Under Secretary of Defense for Policy and Co-Founder and Managing Partner, WestExec Advisors

"As a Navy Chief Petty Officer and deck plate leader I have come to quickly recognize those who can impart important lessons with both intelligence and scholarship. In To Risk It All Admiral Jim Stavridis powerfully displays a unique ability to blend history, leadership, and character to reveal our Navy's story at its best. Sailing on this voyage will be an exciting learning experience for anyone who may come to deal with risk in their lives." —Senior Chief Cryptologic Technician (Interpretative) Malcolm W Nance, USN (Ret.)

"A terrific book!  The sea stories in To Risk It All provide invaluable lessons for anyone facing difficult decisions in life. Readers will be admirably equipped to make tough choices after going on this voyage with Admiral Jim Stavridis, my great shipmate in many demanding endeavors from Afghanistan to the Pentagon." —General David Petraeus, US Army (Ret.), former Commander of the Surge in Iraq, US Central Command, and Coalition Forces in Afghanistan and former Director of the CIA

"This book will make you think—hard—and it likely will make you angry! This book gets you involved. Each of the nine stories is a catalyst for a vigorous discussion on the demands of leadership. If you're like me, you'll agree with the author sometimes and disagree other times. Two things are clear: one, you'll be better prepared to lead if you dive into this book, and two, nobody is more qualified to help us navigate these waters than ADM Jim Stavridis, who has not only studied the charts in detail, but also and more importantly, has sailed these heavy seas himself." —Admiral John Richardson, USN, (Ret.) former Chief of Naval Operations