The Prophets (Large Print / Paperback)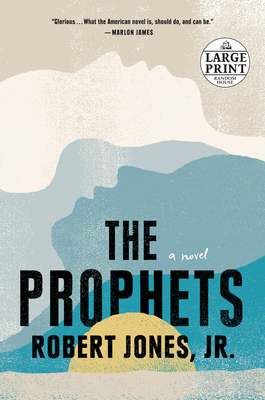 $29.00

Usually Ships in 1-5 Days
Staff Reviews
---
A lyrical epic debut novel — a love story between two enslaved young men, Samuel and Isaiah, set on an antebellum plantation known as Empty in Mississippi. Theirs is a tender relationship, looked upon with empathy or at least acceptance, by both other slaves and the plantation owner himself until all is undone by Amos, a fellow enslaved man, who expediently becomes as Christian evangelist and manages to turn the entire plantation against the two lovers. Heartbreak, violence, and destruction follow, told in a most spell-casting and original way. The Prophets adds to literature reimagining slavery, with Jones paying homage to James Baldwin and Toni Morrison. Layering in a dreamy realism and at times poetic, this is artful storytelling. So much to offer, no wonder it took Jones 13 years to complete and publish.
— Carolyn
January 2021 Indie Next List
---
"I am at a loss for words. How can I even begin to describe the breathtaking language Robert Jones, Jr. has gifted us in his debut novel, The Prophets? How can I begin to explain how he achieves a feat so marvelous it almost seems impossible? Well, that's the key word: almost. From his innovative restructuring of the Bible through the lens of America's history with slavery to characters that leap off the page with colorful grace and dignity, Jones masterfully weaves a narrative that serves as a warning from the past, a prophecy for the future, and a testament to the present. His writing defies all great American novels that have come before, and in doing so becomes one of the greatest I've ever had the pleasure of reading. I can't wait for everyone to be as spellbound by this book as I am; it will stay with me forever."
— Gage Tarlton, Flyleaf Books, Chapel Hill, NC
Description
---
Best Book of the Year
NPR • The Washington Post • Boston Globe • TIME • USA Today • Entertainment Weekly • Real Simple • Parade • Buzzfeed • Electric Literature • LitHub • BookRiot • PopSugar • Goop • Library Journal • BookBub • KCRW

• Finalist for the National Book Award
• One of the New York Times Notable Books of the Year
• One of the New York Times Best Historical Fiction of the Year
• Instant New York Times Bestseller 

A singular and stunning debut novel about the forbidden union between two enslaved young men on a Deep South plantation, the refuge they find in each other, and a betrayal that threatens their existence.

Isaiah was Samuel's and Samuel was Isaiah's. That was the way it was since the beginning, and the way it was to be until the end. In the barn they tended to the animals, but also to each other, transforming the hollowed-out shed into a place of human refuge, a source of intimacy and hope in a world ruled by vicious masters. But when an older man—a fellow slave—seeks to gain favor by preaching the master's gospel on the plantation, the enslaved begin to turn on their own. Isaiah and Samuel's love, which was once so simple, is seen as sinful and a clear danger to the plantation's harmony.

With a lyricism reminiscent of Toni Morrison, Robert Jones, Jr., fiercely summons the voices of slaver and enslaved alike, from Isaiah and Samuel to the calculating slave master to the long line of women that surround them, women who have carried the soul of the plantation on their shoulders. As tensions build and the weight of centuries—of ancestors and future generations to come—culminates in a climactic reckoning, The Prophets fearlessly reveals the pain and suffering of inheritance, but is also shot through with hope, beauty, and truth, portraying the enormous, heroic power of love.
About the Author
---
ROBERT JONES, JR. was born and raised in New York City. He received his B.F.A. in creative writing with honors and M.F.A. in fiction from Brooklyn College. He has written for numerous publications, including The New York Times, Essence, OkayAfrica, The Feminist Wire, and The Grio. He is the creator of the social-justice social-media community, Son of Baldwin. Jones was recently featured in T Magazine's cover story, "Black Male Writers of Our Time." The Prophets is his debut novel.