The Big East: Inside the Most Entertaining and Influential Conference in College Basketball History (Hardcover)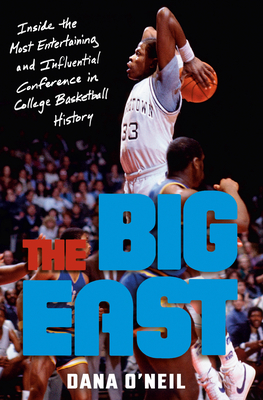 $28.00
Email or call for price.
Description
---
The definitive, compulsively readable story of the greatest era of the most iconic league in college basketball history—the Big East

"This book, full of long-standing rivalries, unmatched moments in the lives of coaches and players, and juicy insider gossip, is, like the game of basketball, a ton of fun."—Philadelphia magazine

The names need no introduction: Thompson and Patrick, Boeheim and the Pearl, and of course Gavitt. And the moments are part of college basketball lore: the Sweater Game, Villanova Beats Georgetown, and Six Overtimes. But this is the story of the Big East Conference that you haven't heard before—of how the Northeast, once an afterthought, became the epicenter of college basketball.

Before the league's founding, East Coast basketball had crowned just three national champions in forty years, and none since 1954. But in the Big East's first ten years, five of its teams played for a national championship. The league didn't merely inherit good teams; it created them. But how did this unlikely group of schools come to dominate college basketball so quickly and completely?

Including interviews with more than sixty of the key figures in the conference's history, The Big East charts the league's daring beginnings and its incredible rise. It transports fans inside packed arenas to epic wars fought between transcendent players, and behind locker-room doors where combustible coaches battled even more fiercely for a leg up.

Started on a handshake and a prayer, the Big East carved an improbable arc in sports history, an ensemble of Catholic schools banding together to not only improve their own stations but rewrite the geographic boundaries of basketball. As former UConn coach Jim Calhoun eloquently put it, "It was Camelot. Camelot with bad language."
About the Author
---
Dana O'Neil, a senior writer at The Athletic, has been a sportswriter and national college basketball reporter for more than three decades, covering eighteen Final Fours. She covered her first Big East game in 1990 and has been a regular at the league's press tables ever since. She has also worked at ESPN and the Philadelphia Daily News and has been honored with multiple writing awards. She served as the president of the U.S. Basketball Writers Association, only the second woman to lead the organization. A graduate of Penn State, she lives in Newtown, Pennsylvania, with her husband and two children.
Praise For…
---
"This book captures the inside of a special time in Big East basketball. If you love the game, this book is a must read!"—Jim Calhoun, former University of Connecticut men's basketball coach

"From its inception in 1979, the Big East has produced some of the most exciting college basketball we've ever seen. We now know that the action behind the scenes (in locker rooms, living rooms, and most of all the coaching meetings) was even more fascinating  than the action on the court. I can't imagine a better pairing of writer and topic than Dana O'Neil and this conference. The stories contained in this book are richly reported and colorfully told. Dig in and enjoy!"—Seth Davis, reporter, CBS Sports and The Athletic

"The heyday of Big East basketball provides a treasure trove of material for an author, and there is no one better for this assignment than Dana O'Neil. She covered it, she lived it, and she revives it with an evocative, feisty flourish. Older fans who want to relive the bare-knuckled glory and the wild stories—and new fans just hearing these tales for the first time—are rewarded by an ideal marriage of subject matter and author."—Pat Forde, senior writer, Sports Illustrated

"The original Big East was gritty and nasty, with a back-alley brawl among rivals every game. It was filled with larger-than-life coaches and superstar players in some of the most epic games ever. Dana O'Neil captures the very essence of that amazing convergence of characters in a league that can never be duplicated. Her book is 'must read' and 'must keep for future generations.'"—Jay Bilas, analyst, ESPN

"O'Neil . . . gives the Big East its due in this engrossing history. . . . With this colorful account (one coach called the conference 'Camelot with bad language'), O'Neil skillfully shows the importance of personalities off the court and on. This is a must-have for March Madness fans."—Publishers Weekly

"This all-inclusive, highly engaging history is as compelling as the Big East Conference itself during those over-the-top years and will delight basketball fans of all ages. . . . The smooth narrative incorporates firsthand accounts from many of the era's headliners, partnered with O'Neil's expert research. This is, to date, the most comprehensive and objective history of this era of the Big East: the rivalries, players, coaches, and championships that were, O'Neil says, 'almost too preposterous to believe.'"—Library Journal

"O'Neil . . . delivers the goods here: a lively, detailed, often-hilarious, and ever-compelling history that should lure even the casual college-basketball fan. And just in time for the coming season."—Booklist