Lidia's From Our Family Table to Yours: More Than 100 Recipes Made with Love for All Occasions: A Cookbook (Hardcover)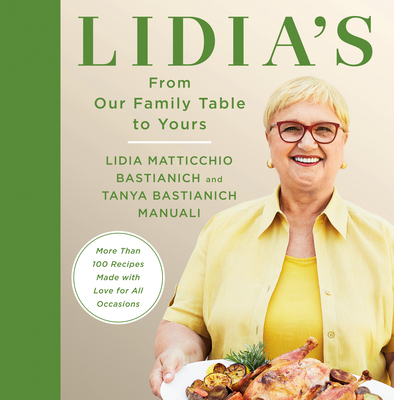 $35.00

Typically Ships in 1 - 2 Days
Description
---
A personal collection of more than a hundred favorite family recipes—from Crespelle with Herb Pesto and Penne with Sausage, Mushrooms and Ricotta Vegetable Polpette, to Lidia's Simple Roast Chicken and Mimosa Cake—from the best-selling, award-winning "doyenne of Italian cooking" (The New York Times)
Nothing brings a family together like food. And no one knows food like Lidia Bastianich. In this inviting, deeply personal new cookbook, she shares the dishes she cooks for those she loves the most. This is the first book Lidia has written since the death of her mother, Nonna, who was beloved not just by Lidia's family but by millions of cookbook and TV fans. With all the family stories and passed-down recipes, in many ways, this book can be seen as a tribute to Nonna.
This sincere, comforting cookbook features:
Traditional recipes that graced Lidia's table as a young girl: Crespelle with Herb Pesto, Prosciutto and Onion Frittata, Rigatoni with Sausage and Cabbage and Penne with Sausage.
New creations she makes for her family: Sweet Potato Chickpea Gnocchi with Gorgonzola, Cheesy Baked Chicken Wings, Mushrooms and Ricotta Vegetable Polpette Mimosa Cake. 


Bringing together more than a 100 delicious, flavorful, and easy-to-make Italian recipes,
From Our Family's Table to Yours
is a celebration of the dishes Lidia's family turns to over and over—and yours will, too. This book is the next-best thing to a seat at Lidia's table!
About the Author
---
LIDIA MATTICCHIO BASTIANICH is the author of fifteen previous cookbooks and is the Emmy Award–winning host of PBS's Lidia's Kitchen, which also airs internationally. She is also the co-host of Nonna Senti Che Fame…Pensaci Tu, which airs on Discovery+ in Italy. Lidia owns Becco and several other acclaimed restaurants, and she is a partner in the acclaimed Eataly. TANYA BASTIANICH MANUALI is integrally involved in the production of Lidia's Public Television series as an owner and executive producer of Tavola Productions, and she is active in the daily business of the family restaurants.
Praise For…
---
★ "In what may be her most personal work to date, Bastianich shares recipes from a lifetime of gatherings that fans will treasure. From mussel bruschetta and spicy crispy roasted cauliflower to cream of fava soup and beef rollatini, she offers inviting options suitable for busy weeknights or more leisurely special occasions. Each recipe provides a glimpse into Bastianich's life. . . . Each entry feels intimate and heartfelt, and while Bastianich has always been appreciated for her relaxed approach to food, this latest collection brings her sincerity, accessibility, and culinary talent to a new level. Home cooks won't be able to resist." —Publishers Weekly (Starred Review)

"[Some] cookbooks are more than just a collection of ingredients and methods; they are woven with memories, stories, and love. Lidia Matticchio Bastianich and Tanya Bastianich Manuali encapsulate this essence in Lidia's From Our Family Table to Yours. It's a tribute to family traditions, offering a delightful glimpse into meals that have graced their family table for generations. Lidia's work stands out, feeling like a cherished heirloom, inviting you to become a part of their family with every dish you recreate." —Dani Zoeller, Tasting Table

"As PBS celebrity chef and restaurateur/entrepreneur Bastianich has emphasized in her previous dozen-plus collections, sharing food is sharing love. [In Lidia's from Our Family Table to Yours] readers can expect a preponderance of pasta recipes, along with the philosophy that anything with cheese (Grana Padano, in particular) is an instant hit. More than 100 recipes, created in concert with daughter Tanya, provide the sort of magical cuisine Lidia is known for, with family stories featuring Grandma Erminia and grandkids—naturally—followed by instructions for the dish. . . . The many of us who can't get to one of Lidia's NYC restaurants can try to master one of her recipes." —Barbara Jacobs, Booklist