The Parade (Paperback)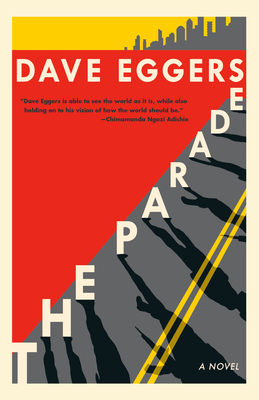 $16.00
Typically Ships in 1 - 2 Days
Staff Reviews
---
I love Eggers, though I don't always love his fiction, but The Parade did it for me. A propulsive narrative following two characters constructing a road in a war-torn country. While Eggers does his usual commentary on the state of the world, it was less in-your-face and more an enjoyable experience. The devastating finale packs a punch and left me respecting Eggers' fiction again. 
— Jesse
Description
---
From the bestselling author of The Monk of Mokha and The Circle comes a taut, suspenseful story of two foreigners' role in a nation's fragile peace.

An unnamed country is leaving the darkness of a decade at war, and to commemorate the armistice the government commissions a new road connecting two halves of the state. Two men, foreign contractors from the same company, are sent to finish the highway. While one is flighty and adventurous, wanting to experience the nightlife and people, the other wants only to do the work and go home. But both men must eventually face the absurdities of their positions, and the dire consequences of their presence. With echoes of J. M. Coetzee and Graham Greene, this timeless novel questions whether we can ever understand another nation's war, and what role we have in forging anyone's peace.
About the Author
---
Dave Eggers is the author of many books, including The Monk of Mokha; Your Fathers, Where Are They? And the Prophets? Do They Live Forever, shortlisted for the Dublin International Literary Award; A Hologram for the King, a finalist for the National Book Award; and What Is the What, a finalist for the National Book Critics Circle Award and winner of France's Prix Médicis Etranger. He is the founder of McSweeney's Publishing and cofounder of Voice of Witness, a book series that uses oral history to illuminate human rights crises. In 2002, he cofounded 826 Valencia, a youth writing center with a pirate-supply storefront, which has inspired similar programs around the world. ScholarMatch, now ten years old, connects donors with students to make college possible for all. In 2018 he cofounded the International Congress of Youth Voices, a global gathering of writers and activists under twenty. He is a winner of the Dayton Literary Peace Prize and the Muhammad Ali Humanitarian Award and is a member of the American Academy of Arts and Letters.

www.internationalcongressofyouthvoices.org
www.internationalallianceofyouthwritingcenters.org
www.826national.org
www.826valencia.org
www.scholarmatch.org
www.voiceofwitness.org
www.valentinoachakdeng.org
www.mcsweeneys.net
www.daveggers.net
Praise For…
---
"The Parade is a heartbreaker and a mindbender.  It is a novel of ideas that packs an emotional punch that left me reeling. With clear, unadorned prose, Eggers lays bare the costs of war, and of peace." –Tayari Jones, author of An American Marriage

"This is a tale for our time, an allegory about intervening in foreign lands without knowledge, and so a nightmare vision of our endless wars." —Thomas E. Ricks, author of Fiasco and Churchill and Orwell
 
"A parable of progress, as told by J.M. Coetzee to Philip K. Dick." —Richard Flanagan, author of Gould's Book of Fish and The Narrow Road to the Deep North
 
"In The Parade, the anxiety grows with every page and every mile to reach an ending that turns everything upside down and sends us into the heart of darkness. A minimalistic, merciless novel. A powerful allegory and a painfully concrete contemporary story—Eggers is a true virtuoso of that synthesis." —Georgi Gospodinov, author of The Physics of Sorrow

"In an unnamed country, two unnamed employees of a foreign road-building corporation arrive for a 12-day assignment… Readers, too, are shut out of any background information on either man, an authorial choice that generates a subtle tension throughout the novel… Eggers differentiates between Four and Nine solely through their reactions to the post-civil-war devastation around them. How this setup reduces the two men to their willingness—or refusal—to see others is striking… Parable-like… The final scene of the novel contains such ferocity." —Idra Novey, The New York Times Book Review

"In Dave Eggers's new novel, The Parade, two men go on a journey: flat, direct and more dangerous than either will admit… The narrative is deliberately unbranded, unspecific. The enthusiastic, inexperienced partner goes by Nine. This pushes the narrative into an allegorical space, even as we are up close and personal with the two on their trip from south to north… Eggers has been writing fiction that tells a story of America in our present moment, and often that moment is characterized by decline… To environmental devastation, violence, the power of social media, the loss of the middle class, we can now add American abroad, over their heads… Darkly funny." —Carolyn Kellogg, The Los Angeles Times

"The ever-incisive, worldly-wise, compassionate, and imaginative Eggers maintains the tension of a cocked crossbow in this magnetizing, stealthily wry, and increasingly chilling tale." –Booklist 

"Eggers… may be the only living American writer for whom the term 'Hemingway-esque' meaningfully applies…. Eggers ably weaves in a host of ethical questions over one man's responsibility to the other, what makes help transactional versus simply kind…. An unassuming but deceptively complex morality play, as Eggers distills his ongoing concerns into ever tighter prose." —Kirkus

"A testament to Eggers' expert skill at point of view... The Parade is a deeply felt book that defies easy labels. This is a book you can finish in a single sitting. And you will." —Tony Romano, The New York Journal of Books

 "An eye-opening political fiction… Eggers' tense and intricate storytelling reveals complex moral and ethical issues." –The Christian Science Monitor  

"Dave Eggers is able to see the world as it is, while also holding on to his vision of how the world should be." —Chimamanda Ngozi Adichie