The Urge: Our History of Addiction (Paperback)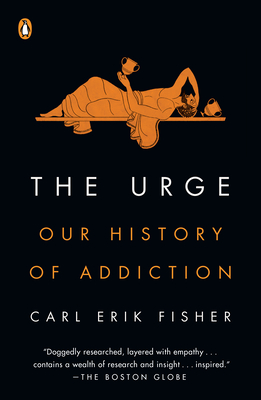 $18.00

Typically Ships in 1 - 2 Days
Staff Reviews
---
Fisher not only covers the history of addiction though literature, religion, and sociology, but combines his personal narrative as an alcoholic in recovery. Fisher demonstrates how the system has failed many hurting people, while also highlighting how far we've come with treatment, as well as where we should be headed and how things can improve.
— Jesse
Description
---
As a psychiatrist in training fresh from medical school, Carl Erik Fisher found himself face-to-face with an addiction crisis that nearly cost him everything. Desperate to make sense of his condition, he turned to the history of addiction, learning that our society's current quagmire is only part of a centuries-old struggle to treat addictive behavior.

A rich, sweeping account that probes not only medicine and science but also literature, religion, philosophy, and public policy, The Urge introduces us to those who have endeavored to address addiction through the ages and examines the treatments that have produced relief for many people, the author included. Only by reckoning with our history of addiction, Fisher argues, can we light the way forward for those whose lives remain threatened by its hold.

The Urge is at once an eye-opening history of ideas, a riveting personal story of addiction and recovery, and a clinician's urgent call for a more nuanced and compassionate view of one of society's most intractable challenges.
About the Author
---
Carl Erik Fisher is an addiction physician and bioethicist. He is an assistant professor of clinical psychiatry at Columbia University, where he works in the Division of Law, Ethics, and Psychiatry. He also maintains a private psychiatry practice focusing on complementary and integrative approaches to treating addiction. His writing has appeared in Nautilus, Slate, and Scientific American MIND, among other outlets. He lives in Brooklyn, New York, with his partner and son.
Praise For…
---
One of The New Yorker's Best Books of 2022

"An artfully combined personal narrative and genealogy of the title concept . . . [Fisher's] authorial voice is clear and gentle. Brimming with common sense and wisdom, a salmagundi of history, science, and informed opinion, The Urge should ignite the urge for invigorated conversation and debate." —The Los Angeles Review of Books

"[A] marvelous gift of hope . . . Fisher's work is a challenge and an invitation to discard narrow conceptions, abandon punitive strategies, and 'free ourselves to look instead at the full variety of interventions available to help.' . . . We are fortunate that his book is here, now, within reach of policymakers, prosecutors, family members, people who are suffering from addiction, and those in recovery." —American Scholar

"A compelling history. . . . Fisher, an addiction physician and a recovering addict, illustrates the 'terrifying breakdown of reason' that accompanies the condition by drawing on patients' anecdotes and on his own experience." —The New Yorker

"Doggedly researched, layered with empathy, The Urge pulls back multiple curtains at once in examining an ailment that will likely never go away . . . The Urge contains a wealth of such research and insight, rendered with a gimlet eye and a physician's care. Addicts who make it to the other side often feel they have survived to fulfill a higher purpose. The Urge qualifies as just such an accomplishment, an inspired dive into a condition that, in one way or another, touches us all." —The Boston Globe

"Fascinating. . . . Carl Erik Fisher takes the reader on a vivid tour over several thousand years of multiple cycles of science, medicine, and literature, woven together by the thread of the author's own alcohol and amphetamine addition and treatment. It is made even more emphatic and moving because he is also a psychiatrist who treats such patients. . . . Thorough and revealing." —The Guardian

"I devoured [The Urge]. . . . Drawing on his experience with addiction, as well as his training in medicine and bioethics, Fisher has produced a meticulous history of addictions—exploring why, across time and place, we pursue our compulsions and obsessions unto grave consequences." —Zachary Siegel, The Baffler

"Dr. Carl Erik Fisher's impressive debut tackles the cultural history of addiction, offering a nuanced, personal perspective on a health crisis that remains stigmatized and misunderstood. . . . The Urge is several excellent books in one: a complete and sweeping history of addiction, a compassionate doctor's approach to treating people with addictions, and a blistering critique of outdated, draconian government policies around drug use and addiction." —BookPage (starred review)

"Fisher, an assistant professor of clinical psychiatry at Columbia University, makes a striking debut by skillfully combining a cultural history of addiction with his own story of recovery. . . . Along the way, he shares plenty of moving stories of the scientists, preachers, and patients on the front lines of addiction and movingly recounts his own struggle with alcohol and Adderall addiction while he was a physician in Columbia's psychiatry residency program. . . . There's as much history here as there is heart." —Publishers Weekly (starred review)

"Fisher, a psychiatrist and a patient recovering from addiction, wonders, 'Is everyone somewhere on the addiction spectrum?' What factors—biological, psychological, social, cultural—play a role? A unique perspective on a frustrating, often devastating problem." —Booklist

"This is a brilliant, fascinating, important book. Combining riveting cultural history and cutting-edge neuroscience with his own searing experiences with (and recovery from) substance abuse, Carl Erik Fisher has produced a work that deserves a place alongside volumes by fellow physician-writers Oliver Sacks, Kay Redfield Jamison, Siddhartha Mukherjee, and Abraham Verghese. Full of insight and wisdom, this is a profound meditation on the nature of addiction and what it means to be human." —Scott Stossel, author of My Age of Anxiety

"This courageous, urgent book tells the story of addiction, narrating its history, the author's own mêlées with alcohol and stimulants, and the narrative of other people's struggles, which he has grappled with as a clinician. In poignant, episodic accounts, he describes historical conflicts that remain alive today, when we view addiction sometimes as a social circumstance, sometimes as a biological disease, and sometimes as a personal failure. Fisher has undertaken the difficult but necessary job of reconciling these multiple points of view." —Andrew Solomon, author of Far from the Tree and The Noonday Demon

"Carl Erik Fisher's The Urge is the best-written and most incisive book I've read on the history of addiction. In the midst of an overdose crisis that grows worse by the hour and has vexed America for centuries, Fisher has given us the best prescription of all: understanding. He seamlessly blends a gripping historical narrative with memoir that doesn't self-aggrandize; the result is a full-throated argument against blaming people with substance use disorder. The Urge is a propulsive tour de force that is as healing as it is enjoyable to read." —Beth Macy, author of Dopesick

"The Urge is an insightful, thought-provoking, and beautifully written book that stands to revolutionize our understanding of one of medicine's—and society's—most challenging problems. Carl Erik Fisher is a masterful physician-writer who is equally attentive to the grand sweep of history and the subtleties of each individual's experience of addiction. A remarkable achievement." —Siddhartha Mukherjee, author of The Emperor of All Maladies

"This thoughtful, wise, and thoroughly researched book is sure to be a crucial contribution to our understanding of addiction—a crisis that demands a deeper, more truthful conversation." —Johann Hari, author of Chasing the Scream

"Thoughtful, moving, and wonderfully informative, Carl Erik Fisher's The Urge arrives just in time to help us, as a nation, rethink our failed war on drugs. In telling his own story, that of a young physician wrestling with both alcohol and rehab, Dr. Fisher humanizes the struggles that ensnare so many of us. Addiction, this marvelous book makes clear, is confounding, seductive, and elusive. In facing it without prejudice, we can learn a lot about ourselves." —Mark Epstein, author of The Trauma of Everyday Life and Advice Not Given

"Carl Erik Fisher expertly weaves his own story of addiction into a comprehensive and fascinating narrative. The Urge is an engaging read that also helps us gain a fuller picture of our own nature and how society has capitalized on it to drive addiction. Even as an addiction psychiatrist and researcher, I learned a great deal from this book." —Judson Brewer, MD, author of Unwinding Anxiety

"The Urge is an absolutely brilliant exploration of humanity's ever-present struggle with addiction, or what psychiatrist Carl Erik Fisher calls 'the terrifying breakdown of reason.' Dr. Fisher's firsthand experience, as both a doctor and a patient, gives The Urge a layer of insight that deepens its historical focus. Readers will walk away with a nuanced grasp of the high stakes of our broken medical system and the bias baked into our understanding of addiction and mental illness in general. This book is special—as edifying as it is electrifying, as meaningful as it is humane." —Susannah Cahalan, author of Brain on Fire