Parisian Lives: Samuel Beckett, Simone de Beauvoir, and Me: A Memoir (Paperback)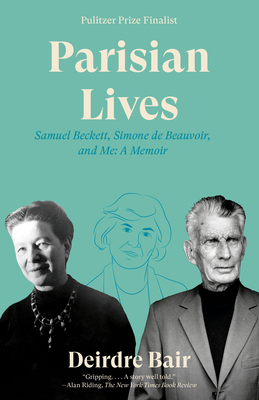 $16.95
Usually Ships in 1-5 Days
Description
---
A PULITZER PRIZE FINALIST
A Publishers Weekly Best Book of the Year

National Book Award-winning biographer Deirdre Bair explores her fifteen remarkable years in Paris with Samuel Beckett and Simone de Beauvoir, painting intimate new portraits of two literary giants and revealing secrets of the biographical art.

In 1971 Deirdre Bair was a journalist and recently minted Ph.D. who managed to secure access to Nobel Prize-winning author Samuel Beckett. He agreed that she could be his biographer despite her never having written—or even read—a biography before. The next seven years comprised of intimate conversations, intercontinental research, and peculiar cat-and-mouse games. Battling an elusive Beckett and a string of jealous, misogynistic male writers, Bair persevered. She wrote Samuel Beckett: A Biography, which went on to win the National Book Award and propel Deirdre to her next subject: Simone de Beauvoir. The catch? De Beauvoir and Beckett despised each other—and lived essentially on the same street. Bair learned that what works in terms of process for one biography rarely applies to the next. Her seven-year relationship with the domineering and difficult de Beauvoir required a radical change in approach, yielding another groundbreaking literary profile and influencing Bair's own feminist beliefs.
     Parisian Lives draws on Bair's extensive notes from the period, including never-before-told anecdotes. This gripping memoir is full of personality and warmth and gives us an entirely new window on the all-too-human side of these legendary thinkers.
About the Author
---
DEIRDRE BAIR received the National Book Award for Samuel Beckett: A Biography, and her memoir, Parisian Lives, was a finalist for the Pulitzer Prize. Her biographies of Simone de Beauvoir and Carl Jung were finalists for the Los Angeles Times Book Prize, and the Simone de Beauvoir biography was chosen by The New York Times as a Best Book of the Year. Her biographies of Anaïs Nin and Saul Steinberg were both New York Times Notable Books. Prior to Parisian Lives, her most recent book was Al Capone: His Life, Legacy, and Legend.
Praise For…
---
"Sparkling . . . Bair spent seven years on Beckett and ten on Beauvoir, and her dedication to her subjects is apparent. Into her accounts of working with these eminent, often exasperating writers she weaves recollections of malfunctioning tape recorders, grandstanding sources, and her travails as a professional and a mother commuting across the Atlantic, working in a field dominated by men."
—The New Yorker

"Gripping . . . In Parisian Lives, which reads much like a 'making of…' documentary, Bair gives us her off-camera take on her first two biographies. And, to our delight, we become voyeurs. Can this inexperienced young American tame these two monstres sacrés? Will she be hoodwinked by two larger-than-life writers who want to influence, manipulate, control, even censor her—even as, all the while, they appear to cooperate? . . . A story well told."
—Alan Riding, The New York Times Book Review

"This juicy book, which [Bair] dubs a 'bio-memoir,' is at once a record of triumph over the skepticism and sexism she encountered on her path from journalist to academic and biographer and a valuable lesson in the art of biography . . . Parisian Lives is an unqualified success."
—Heller McAlpin, The Wall Street Journal

"Parisian Lives promises insights into the art of biography, perhaps a little gossip, perhaps a more intimate look of Beckett and Beauvoir. Instead it is something more unusual: an itemized receipt of the costs of female ambition . . . This book clamors for love, sympathy, recognition; it rejects the concealments necessary to preserve certain forms of dignity, certain forms of injustice."
—Parul Sehgal, The New York Times

"Vivid and absorbing portraits of Beckett and Beauvoir, and a searing account of Bair's evolving feminist consciousness as a novice biographer trying to launch a career, raise kids and run a household . . . Bair's indefatigable energy and can-do attitude are likely to inspire a new generation of writers and biographers."
—Ann Levin, AP

"Even readers uninterested in going deep into the weeds will find the broader landscape breathtaking . . . A unique glimpse into a bygone literary era. Whether you adore the works of Beckett and Beauvoir or cordially detest them, this memoir will deepen your appreciation of the impassioned feelings they provoked."
—Michael Magras, Minneapolis Star Tribune

"In her gripping memoir Parisian Lives, published just before her death early in 2020, Deirdre Bair describes in delicious detail the experience of writing about Samuel Beckett and Simone de Beauvoir, both of whom were very much alive when their biographies were commissioned...  Bair was forced to confront her subjects' contradictions and complexities in the flesh, and negotiate not only their careful attempts to hide elements of their past they hoped to keep private, but her own anxieties about whether she had any right to defy their wishes."
—Granta

"Full of encounters, reflections, tribulations, and revelations—an enthralling account of a biographer's lot, by one of the art's most distinguished practitioners."
—Sarah Bakewell, author of How to Live and At the Existentialist Cafe

"This memoir is one of a kind. The backstory of two of the great biographies of our time, it is absorbing from start to finish. I read it in two sittings: that's how eager I was to know what came next."
—Vivian Gornick, author of The Odd Woman and the City
 
"Parisian Lives is a signal achievement. Deirdre Bair's engrossing account of nearly two decades of adventures in Paris brings the city to vivid life. And her personal story, told here in gripping fashion, becomes as compelling as those of her illustrious biographical subjects."
—Mary V. Dearborn, author of Ernest Hemingway

"Parisian Lives gives readers insight into a woman and writer undertaking the alternately arduous and thrilling, hilarious and inspiring task of writing the biographies of Samuel Beckett and Simone de Beauvoir. As pure memoir it is transporting, and as tribute to the art of biography it is a crucial guide for those aspiring to take a journey into someone else's life. Bair shows how it should be done, which is to say how she did it."
—Mary Gabriel, author of Ninth Street Women

"A totally compelling account by a master biographer of the joys and frustrations of writing another's life. While some of her revelations are explosive, Bair manages to present her legendary subjects, Samuel Beckett and Simone de Beauvoir, as poignantly human. This groundbreaking work returns us nostalgically to a literary Paris that teems with intrigue and humor." 
—Rosemary Sullivan, author of Stalin's Daughter
 
"By turns scholarly and salacious, Bair has loosened decades of polite tongue-biting to write the backstory in what she calls a 'bio-memoir' of two influential writers . . . No matter her subject, Bair, a generous and graceful writer, has followed her dictum in writing biographies: 'those of us who wrote literary biographies should ensure that our readers ended our books by wanting to turn immediately to our subjects' writing.' Bair's exhaustively detailed and lively memoir also serves as a solid study in the art of biography."
—Publishers Weekly, starred review