Anointed with Oil: How Christianity and Crude Made Modern America (Hardcover)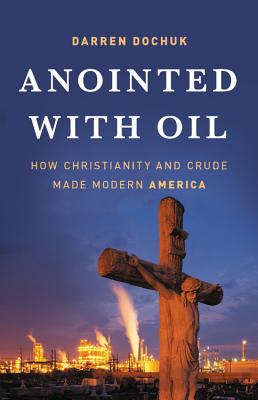 $35.00
Email or call for price.
Description
---
A groundbreaking new history of the United States, showing how Christian faith and the pursuit of petroleum fueled America's rise to global power and shaped today's political clashes

Anointed with Oil places religion and oil at the center of American history. As prize-winning historian Darren Dochuk reveals, from the earliest discovery of oil in America during the Civil War, citizens saw oil as the nation's special blessing and its peculiar burden, the source of its prophetic mission in the world. Over the century that followed and down to the present day, the oil industry's leaders and its ordinary workers together fundamentally transformed American religion, business, and politics -- boosting America's ascent as the preeminent global power, giving shape to modern evangelical Christianity, fueling the rise of the Republican Right, and setting the terms for today's political and environmental debates.

Ranging from the Civil War to the present, from West Texas to Saudi Arabia to the Alberta Tar Sands, and from oil-patch boomtowns to the White House, this is a sweeping, magisterial book that transforms how we understand our nation's history.


About the Author
---
Darren Dochuk is associate professor of history at the University of Notre Dame. He is author of From Bible Belt to Sunbelt, which received the John H. Dunning Prize from the American Historical Association (best first or second book in American history) and the Ellis W. Hawley Prize from the Organization of American Historians (best book in post-Civil War political history), and was based on a dissertation that was awarded the Allan Nevins Prize from the Society of American Historians (best dissertation in American history). He has also edited several other books in American religious history. Born and raised in Edmonton, Alberta--Canada's oil capital--he now lives in South Bend, Indiana.
Praise For…
---
"One of the most original and insightful accounts of recent American history to appear in many years...A major step forward in our understanding of the American past and of the ways that energy, business, faith and politics intertwined to shape the country we live in today."—Wall Street Journal

"[Dochuk] writes fluidly, and his lively volume traces the booms and busts of oil, taking us from the squalid boom towns and hellish drilling sites to the lavish executive suites...[He] makes a strong case that oil continues to shape American foreign policy and regulatory policy today."—Financial Times

"Anointed with Oil helps to clarify the twin passions for wealth and Jesus that have brought us to our current dependence on fossil fuels. But it also makes clear that to get beyond, we will need to stop treating oil as a sacred liquid-to turn away from the melodrama of religious faith, and to see our reliance on it with clear-eyed realism as a matter of social and political choices."—Boston Review

"In recent years, scholars have delved deeper than ever before into the longstanding synergies between American Christianity and American capitalism...Darren Dochuk's landmark book, Anointed with Oil: How Christianity and Crude Made Modern America, at once builds on this important body of work and represents its most stunning achievement...[Dochuk] opens a breathtaking new window onto the making of the modern nation...Historians will be talking about Dochuk's book for a very long time to come."—Christianity Today

"Meticulously researched...A sobering study of the tightly interwoven forces of capitalism and Christianity that shape American life."—Publishers Weekly

"Fascinating...Anointed with Oil is a must-read for historians of the United States...By focusing on Christianity's relationship to oil, Dochuk unearths elements that diplomatic and economic historians have partly ignored or not yet combined...Oil and Christianity have never been separate threads of American history, and their synthesis gives clues about what we can expect in the future."—Energy Reporters

"Dochuk is a master storyteller...[His] geographical framing underpins the differences between the austere, disciplined Calvinist work ethic of Weber's Protestantism and the impractical, sometimes out-of-control approach of premillennial 'wildcat' oilers...Thoroughly engaging."—National Catholic Reporter

"In recent years, scholars have delved deeper than ever before into the longstanding synergies between American Christianity and American capitalism...Darren Dochuk's landmark book, Anointed with Oil: How Christianity and Crude Made Modern America, at once builds on this important body of work and represents its most stunning achievement...[Dochuk] opens a breathtaking new window onto the making of the modern nation...Historians will be talking about Dochuk's book for a very long time to come."—Christianity Today

"Recent scholars have been shining light on the sometimes invisible oil industry and how it has affected society...Dochuk makes an important addition to this growing literature...A compelling and important narrative."—Christian Century

"Intriguing...A sweeping tale that uses both oil and faith to paint a panoramic portrait of post-Civil War American history."—Kirkus

"In this brilliant book, Darren Dochuk taps into the intertwined histories of oil and religion and comes away with fascinating new discoveries about the course of business, religion and politics in the United States. Grounded in deep research and bursting with soaring prose, Anointed with Oil is a must-read for anyone seeking to understand the origins of modern America."—Kevin M. Kruse, co-author of Fault Lines: A History of the United States since 1974

"This is one of the best and most original books ever written about the marriage of capitalism and Christianity in America. In a thrilling narrative that stretches from John D. Rockefeller to the brothers Koch, Darren Dochuk reveals how oil producers, their workers, and their muckraking critics drew on their religious and spiritual creeds to justify or condemn this indispensable industry. Anointed With Oil is a scholarly masterpiece."—Michael Kazin, author of War Against War: The American Fight for Peace, 1914-1918 and professor of history, Georgetown University

"Anointed With Oil is a brilliant analysis of a subject that has played such an outsize role in U.S. history that we've been unable to grasp it: the deep and complex intertwining of Christianity and the oil industry and the global implications of this alliance over time. Meticulously detailed and yet sweeping in scope, the book recasts the historical relationship between religion and market capitalism more broadly to show the absolute centrality of oil to Americans' ongoing belief in the nation's exceptionalism. Darren Dochuk writes with the skill of a novelist to bring this fascinating story to light, proving once again that he is one of the preeminent historians of U.S. religion in our time."—R. Marie Griffith, author of Moral Combat: How Sex Divided American Christians and Fractured American Politics

"It is difficult to think of two things that have shaped American life more than God and black gold, yet they remain poorly understood, kept apart as separate topics. In this wonderfully crafted, highly original book, Darren Dochuk instead shows how religion and oil have always been closely related, how they have shaped each other --and how they have combined to create modern America itself. Beautifully written and deeply researched, Anointed with Oil is a remarkable work of history."—Andrew Preston, author of Sword of the Spirit, Shield of Faith: Religion in American War and Diplomacy

"No other work has explored with such brilliance how independent oilmen and their wildcat Christianity shaped the highs and lows of the American century. A tour de force of historical writing."—Gary Gerstle, author of Liberty and Coercion