Reckless: The Racehorse Who Became a Marine Corps Hero (Paperback)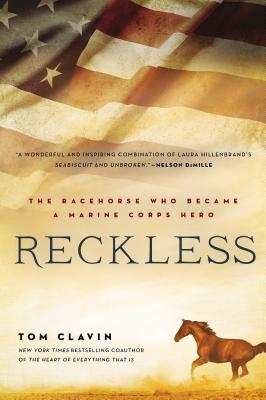 Description
---
From the New York Times bestselling coauthor of The Heart of Everything That Is, comes the unlikely story of a racehorse who truly became a war hero, beloved by the Marine Corps and decorated for bravery.
 
Her Korean name was Ah-Chim-Hai—Flame-of-the-Morning. A four-year-old chestnut-colored Mongolian racehorse, she once amazed the crowds in Seoul with her remarkable speed. But when war shut down the tracks, the star racer was sold to an American Marine and trained to carry heavy loads of artillery shells across steep hills under a barrage of bullets and bombs. The Marines renamed her Reckless.
 
Reckless soon proved fearless under fire, boldly marching alone through the fiery gauntlet, exposed to explosions and shrapnel. On some of her uphill treks, Reckless shielded human reinforcements. The Chinese, soon discovering the bravery of this magnificent animal, made a special effort to kill her. But Reckless never slowed. As months passed, the men came to appreciate her not just as a horse but as a fellow Marine.
About the Author
---
Tom Clavin's books include the national bestselling titles Halsey's Typhoon, The Last Stand of Fox Company, Last Men Out, and The Heart of Everything That Is (all written with Bob Drury); as well as sports titles Roger Maris, Gil Hodges (both written with Danny Peary), and The DiMaggios. His work has appeared in the New York Times, Men's Journal, Reader's Digest, Smithsonian Magazine, and Parade. He resides in Sag Harbor, New York.
Praise For…
---
"A wonderful and inspiring combination of Laura Hillenbrand's Seabiscuit and Unbroken." —Nelson DeMille

"Clavin introduces us to the unlikeliest hero of all…an inspiring tale of courage and endurance."—New York Times Bestselling Author Larry Alexander
 
"Dramatic and poignant…and comes completely alive in Tom Clavin's narrative."—New York Times Bestselling Author S. C. Gwynne