The Manny: A Nanny of the Male Persuasion (Mass Market Paperbound)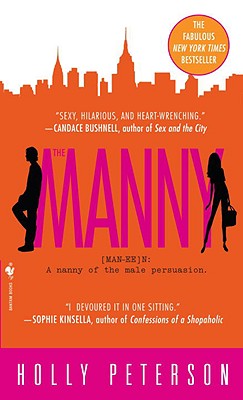 Description
---
"
"What's a Park Avenue working mom to do when her troubled son desperately needs a male role model and her husband is a power workaholic? If she's like Jamie Whitfield, the gutsy heroine of Holly Peterson's astute new comedy of manners among the ill-mannered elite, she does what every other woman down the block does. She hires herself""a "manny." Peter Bailey is cool, competent, and so charmingly down-to-earth, he's irresistible. And with the political sex scandal of the decade propelling her career as a news producer into overdrive, and her increasingly erratic husband locked in his study with suspicious files, Jamie is in serious need of some grounding.
Peter reminds her of everything she once was, still misses, and underneath all the high-society glitz, still is. The question is: Will the new manny in her life put the ground back beneath her feet, or sweep her off them?
About the Author
---
Holly Peterson spent a decade as an Emmy award-winning producer at ABC news. Her work has been published in the "New York Times," "Harper's Bazaar," "Talk," and "Newsweek," where she is now a contributing editor. She lives in New York City with her family and is working on her next novel. "From the Hardcover edition."
Praise For…
---
"Holly Peterson has a keen observer's eye for the frailties, foibles, and frivolities of present day upper class life among the rich of New York City. She understands her territory well and writes with authority."—Dominick Dunne, author of A Season In Pugatory

"Brisk, crisp, knowing and fun."—Christopher Buckley, author of Thank You for Smoking

"Holly Peterson writes about the rich with acute understanding and a drop-dead eye for detail. The funniest, sexiest ride in the limo lane since The Bonfire of the Vanities." —Tina Brown, author of The Diana Chronicles

"Money, Manners, Mannys: Holly Peterson's debut is a fabulously sharp skewering of the silly-rich in New York. Observing a Park Avenue Working Mom falling for The Help had me both touched and tormented with laughter. I couldn't put it down. We should ALL get a Manny right now."–Plum Sykes, author of Bergdorf Blondes

I leapt on The Manny and devoured it in one sitting. It's a riveting portrait of millionaires' life on 'The Grid', full of eye-watering details. And it made me instantly want to hire a male nanny...... for me!—Sophie Kinsella, author of Shopaholic & Baby

"Holly Peterson takes us on a locomotive tour through the living rooms of the Upper East Side and the newsrooms of the media elite. The trip is sexy, hilarious, and heart-wrenching."—Candace Bushnell, author of Sex and the City