No Promises in the Wind (Mass Market)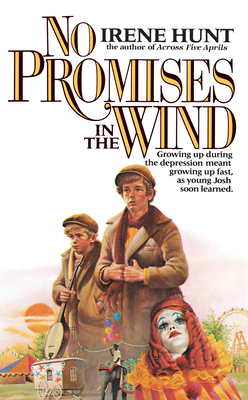 $8.99
Email or call for price.
Description
---
From the Newbery Award-winning author of Across Five Aprils and Up a Road Slowly comes a tale of a brave young man's struggle to find his own strength during the Great Depression.

"A powerfully moving story."—Chicago Daily News

In 1932, American's dreams were simple: a job, food to eat, a place to sleep, and shoes without holes. But for millions of people these simple needs were nothing more than dreams. At fifteen years of age, Josh has to make his own way through a country of angry and frightened people. This is the story of a young man's struggle to find a life for himself in the most turbulent of times.
About the Author
---
Irene Hunt was the author of many distinguished books for young readers. Her first novel, Across Five Aprils, was a Newberry Award nominee and received a Lewis Carroll Shelf Award. Her second novel, Up a Road Slowly, was awarded the Newberry Medal in 1966. Ms. Hunt was born in southern Illinois and received degrees from the University of Illinois and the University of Colorado. For many years she taught in the public schools of northern Illinois, and later taught psychology at the University of South Dakota. She died in 2001.
Praise For…
---
Praise for the Novels of Irene Hunt

"A deeply affecting, affirmative story."—Booklist

"A powerfully moving story."—Chicago Daily News

"An intriguing and beautifully written book, a prize to those who take the time to read it, whatever their ages."—The New York Times

"This is a beautifully written book, filled with bloodshed, hate, and tears, but also with love, loyalty, and compassion, with unforgettable characters, and with ideas and implications that have meaning for young people today."—Chicago Tribune