Fantasy League (Hardcover)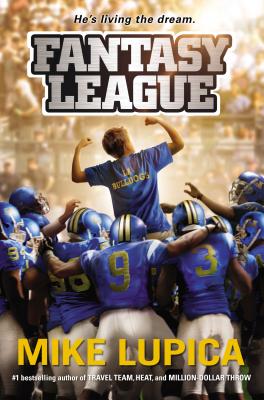 Description
---
From the #1 bestselling author of Heat, Travel Team and Million-Dollar Throw comes a story of every football kid's dream come true.
 
12-year-old Charlie is a fantasy football guru. He may be just a bench warmer for his school's football team, but when it comes to knowing and loving the game, he's first-string. He even becomes a celebrity when his podcast gets noticed by a sports radio host, who plays Charlie's fantasy picks for all of Los Angeles to hear. Soon Charlie befriends the elderly owner of the L.A. Bulldogs -- a fictional NFL team -- and convinces him to take a chance on an aging quarterback. After that, watch out . . . it's press conferences and national fame as Charlie becomes a media curiosity and source of conflict for the Bulldogs general manager, whose job Charlie seems to have taken. It's all a bit much for a kid just trying to stay on top of his grades and maintain his friendship with his verbal sparring partner, Anna.

Like the best Disney film in book form, like Moneyball for kids, Fantasy League is every football kid's dream scenario.
 

Praise for FANTASY LEAGUE:

* "This Moneyball story with kids is on the money."–Booklist, starred review 

"The feel good book of the year."–VOYA

"Readers will be alternately cheering and reaching for a tissue during the final playoff-deciding game for the Bulldogs. This will be devoured by young football fans."–School Library Journal
About the Author
---
Mike Lupica is the #1 bestselling author of many popular books for young readers, including QB 1, Heat, Travel Team, Million-Dollar Throw, and The Underdogs. He has carved out a niche as the sporting world's finest storyteller. Mike lives in Connecticut with his wife and their four children. When not writing novels, Mike Lupica writes for New York's Daily News, appears on ESPN's The Sports Reporters and hosts The Mike Lupica Show on ESPN Radio. You can visit Mike Lupica at mikelupicabooks.com
Praise For…
---
LUPICA, Mike. Fantasy League. 304p. Philomel. Sept. 2014. Tr $17.99.
Gr 5 Up– Charlie "The Brain" Gaines may be an average seventh grader in most respects, but he possesses an uncanny knowledge about football teams and a sixth sense about game strategy. A so-so linebacker for his own Pop Warner team, the Culver City Cardinals, Charlie would much rather be on the sidelines, calling plays along with the coach. Best friend Anna Bretton shares Charlie's passion for football, as it is in her blood—her grandfather and uncle own and manage the Los Angeles Bulldogs. She invites Charlie to meet Grandpa Joe and Uncle Matt at a game, and it isn't long before Gramps is captivated by Charlie's commentary. His advice to replace the quarterback with an older and relatively unknown player named Tom Pinkett helps to turn around their losing record. Signing Pinkett to the team turns out to be a winning idea, and when word gets out that the call was made by a 12-year-old, Charlie is hounded by the media and thrust into a spotlight he isn't sure how to handle. Nearly losing his friendship with Anna, Charlie learns a lesson about fame and valuing relationships. Tension soars when Joe Warren falls ill, and readers will be alternately cheering and reaching for a tissue during the final playoff-deciding game for the Bulldogs. This will be devoured by young football fans, who appreciate intricate game details and won't mind a touch of heartwarming sentiment.--
School Library Journal
Usually a football book is about whether or not the kid makes the team—and the problems that follow. So
it's refreshing that those issues are only a part of 12-year-old Charlie Gains' story. See, Charlie is known
as the Brain, because he is a football stats genius. He understands which players should be playing where
and why. This makes him great at fantasy football; then reality comes center stage. His best friend, Anna,
is the granddaughter of Joe Warren, the man who has brought NFL football back to Los Angeles. But the
team, the Bulldogs, haven't done much, and Joe's son, the GM, is being blamed. Enter Charlie, who loves
the team and soon comes to love Joe Warren as the father and grandfather he never had. Charlie shares his
massive football knowledge with Joe, and soon players are being recruited at Charlie's suggestion. Couple
this with the fact Anna has turned Charlie into something of a podcast celebrity, and suddenly Charlie is
catnip for the media. That's great until things start to go wrong. There's a lot of football here: pro and
fantasy teams and Charlie's own Pop Warner career. Veteran sportswriter Lupica handles it all very well.
However, it's the heart and depth he adds to the story depicting Charlie's relationships with a sterling cast
of characters that make this unique. This Moneyball story with kids is on the money.
—
Ilene CooperPraise for FANTASY LEAGUE:
* "This
Moneyball
story with kids is on the money."–Booklist, starred review

"Fantasy League . . . is the feel good book of the year."–VOYA

"This will be devoured by young football fans, who appreciate intricate game details and won't mind a touch of heartwarming sentiment."–School Library Journal
4Q 5P M J
Lupica, Mike.
Fantasy League.
 Philomel/Penguin, 2014. 304p. $17.99. 978-0-399-25607-3. 
Twelve-year-old Charlie Gaines, nicknamed the "Brain," knows everything about football. He watches the games, studies the stats, and sees things professionals seem to miss. His best friend, Anna's, grandfather, Joe Warren, owns the L.A. Bulldogs, an expansion team with a history of losing. Anna knows almost as much about football as Charlie and they love watching games and talking football, especially how they would turn the Bulldogs around. At Anna's urging Charlie suggests to Warren that he draft an older quarterback who will probably be dropped by his current team. He is astonished when Warren takes this advice. Word gets out that Warren is taking suggestions from a twelve-year-old and both Charlie and Warren take considerable grief from the media. When Warren acts a second time on Charlie's advice, the media has a field day. Will these choices prove positive for the Bulldogs? Throughout this, Charlie is also player/assistant coach in a Pop Warner league, not confident that he is talented enough.               
Fantasy League
by Lupica is the feel good book of the year. Charlie and Anna are truly best friends. It is heartwarming to see a friendship develop between septuagenarian Warren and Charlie, whose father left when he was young. Warren becomes friend/father/grandfather rolled into one. Lupica touches on family, illness, self-confidence, and more in an easy-reading, enjoyable way. While the plot is predictable, the action and characters make
Fantasy League
a fun read. Primarily geared to boys, female sports fans might enjoy this as well.—Ed Goldberg.