Wherever I Wind Up: My Quest for Truth, Authenticity and the Perfect Knuckleball (Hardcover)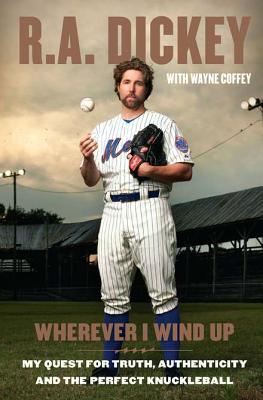 Description
---
The Glass Castle meets Ball Four as Mets knuckleballer R.A. Dickey weaves searing honesty and baseball insight in this memoir about his unlikely journey to the big leagues.
An English Lit major at the University of Tennessee, Dickey is as articulate and thoughtful as any professional athlete in any sport-and proves it page after page, as he provides fresh and honest insight into baseball and a career unlike any other. Fourteen years ago, Dickey was a heralded No. 1 draft choice of the Texas Rangers, only to have an $810,000 signing bonus, and his lifelong dream, ripped away by an X- ray-and the discovery that he did not have an ulna collateral ligament in his right elbow. Five years ago, he gave up a record six home runs in three innings to the Detroit Tigers-and was effectively consigned to the baseball scrap heap.
Sustained by his profound Christian faith, the love of his wife and children, and a relentless quest for self-awareness and authenticity, the immensely likable Dickey details his transformation from a reckless, risk-taking loner to a grounded, life- affirming big leaguer. He emerged as one of the premier pitchers in the National League in 2010-and the knuckleballing embodiment of the wonders that perseverance and human wisdom can produce. Dickey views his story as one of redemption. Readers will come to see it as something more-a uniquely American story of beating back demons, listening to your heart, and overcoming extraordinary odds.
About the Author
---
R.A. Dickey of the New York Mets is one of the premier pitchers in baseball. In 2012 he became the first knuckleballer to win the National League Cy Young Award, major league baseball's highest honor for a pitcher. Immensely popular with fans and deeply respected by his teammates, Dickey lives in Tennessee with his wife and four children.

Wayne Coffey is an award-winning journalist for the "New York Daily News" and the author of more than thirty books, including "The Boys of Winter," a "New York""Times" bestselling chronicle of the 1980 U.S. Olympic hockey team. A three-time Pulitzer nominee, he has long been regarded as one of best sports feature writers in the nation.
Praise For…
---
"MLB's only active knuckleballer--boasts a story compelling enough to be told forthwith…. Dickey credits his faith with overcoming myriad trials both personal and professional, but it never feels as if he's preaching. Once an English-lit major and now a starting pitcher for the New York Mets, the author emerges as one of baseball's good guys, and someone who can write as well as he pitches. Dickey has set a new standard for athlete autobiographies."
- Publishers Weekly, Starred review


"It's a gripping memoir, a brutally honest account of family woes, childhood abuse and his failures as a husband and father. But it's also a meditation on contemporary baseball that is insightful without throwing anyone under the bus, save the author himself. (And maybe Alex Rodriguez.) It might be the finest piece of nonfiction baseball writing since Ball Four. Perhaps above all, it's a classic epic quest, a flawed hero's unlikely odyssey to the major leagues and to discovering the mystical pitch that helped him get there."
- Jon Wertheim, Sports Illustrated


"Wherever I Wind Up is an astounding memoir--haunting and touching, courageous and wise."
- Jeremy Schaap, bestselling author, Emmy award-winning journalist, ESPN


"Nobody in baseball has overcome more obstacles than R.A. Dickey, and nobody writes about them with more honesty and insight. R.A. doesn't want to be called a hero, but he is exactly that, and when you read about his life's journey and his courage, you will agree with me. This is an awesome book by an awesome man."
-Orel Hershiser, ESPN Sunday Night Baseball analyst, former MLB All-Star


"R.A. Dickey is one of the coolest athletes I've ever met - a great mixture of soul and intellect ... This is an athlete worth knowing better."
- George Vescy, New York Times


"A wonderful and powerful new memoir."
- Jim Caple, ESPN


"I can't recommend Wherever I Wind Up enough."
- Gary Cohen, SportsNet NY (SNY)


"R.A. Dickey's book is unlike any other professional athlete's autobiography you have ever read. And that is a very good thing."
- Mike Bauman, MLB.com
Coverage from NPR