From Here to Eternity: Traveling the World to Find the Good Death (Hardcover)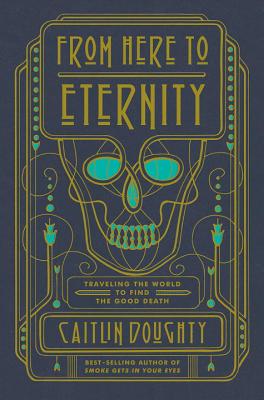 $25.95

Usually Ships in 1-5 Days
Staff Reviews
---
An interesting look at death around the world written by a witty mortician. Doughty approaches death and dying with no fear. I learned so much from this book, like how Americans fear death while the rest of the world embraces it. This is easily one of my all time favorite reads and I can't wait to read more from her.
— Lauren
Description
---
A New York Times and Los Angeles Times Bestseller



The best-selling author of Smoke Gets in Your Eyes expands our sense of what it means to treat the dead with "dignity."
Fascinated by our pervasive fear of dead bodies, mortician Caitlin Doughty set out to discover how other cultures care for the dead. From Here to Eternity is an immersive global journey that introduces compelling, powerful rituals almost entirely unknown in America.
In rural Indonesia, she watches a man clean and dress his grandfather's mummified body, which has resided in the family home for two years. In La Paz, she meets Bolivian natitas (cigarette-smoking, wish-granting human skulls), and in Tokyo she encounters the Japanese kotsuage ceremony, in which relatives use chopsticks to pluck their loved-ones' bones from cremation ashes.
With boundless curiosity and gallows humor, Doughty vividly describes decomposed bodies and investigates the world's funerary history. She introduces deathcare innovators researching body composting and green burial, and examines how varied traditions, from Mexico's Días de los Muertos to Zoroastrian sky burial help us see our own death customs in a new light.
Doughty contends that the American funeral industry sells a particular—and, upon close inspection, peculiar—set of "respectful" rites: bodies are whisked to a mortuary, pumped full of chemicals, and entombed in concrete. She argues that our expensive, impersonal system fosters a corrosive fear of death that hinders our ability to cope and mourn. By comparing customs, she demonstrates that mourners everywhere respond best when they help care for the deceased, and have space to participate in the process.
Exquisitely illustrated by artist Landis Blair, From Here to Eternity is an adventure into the morbid unknown, a story about the many fascinating ways people everywhere have confronted the very human challenge of mortality.
About the Author
---
Caitlin Doughty is a mortician and the New York Times best-selling author of Smoke Gets in Your Eyes, From Here to Eternity, and Will My Cat Eat My Eyeballs? She is the creator of the web series Ask a Mortician, and the founder of The Order of the Good Death. She lives in Los Angeles, California, where she owns a funeral home.

Landis Blair illustrated the prize-winning graphic novel The Hunting Accident and the New York Times bestseller From Here to Eternity, and has published illustrations in the New York Times, Chicago magazine, and Medium. He lives in Chicago, Illinois.
Praise For…
---
Doughty is a relentlessly curious and chipper tour guide to the underworld, and the weirder things get, the happier she seems. … [H]er dispatches from the dark side [are] doing us all a kindness—offering a picture of what we're in for, even if we'd rather not know.
— Libby Copeland - New York Times Book Review

Doughty chronicles [death] practices with tenderheartedness, a technician's fascination, and an unsentimental respect for grief.
— Jill Lepore - The New Yorker

Doughty writes bluntly about open-air cremations, natural burials and body composting, bringing a little more clarity and a little less mystery to the question: 'What happens to us after we die?'
— NPR (Our Guide to 2017's Great Reads)

[T]he macabre travelogue is a thoughtful reflection and a smart critique of the American funeral industry, with plenty of gallows humor thrown in.
— Smithsonian (The Ten Best Travel Books of 2017)

Doughty finds the humanity in others cultures' relationship with death that seems to be lacking in ours.
— Justin Caffier - Vice

This slim volume, full of captivating, enlightening, and humorous tidbits, is a—dare I say—uplifting exploration of what people the world over do to withstand loss and the bite of impermanence. This is death as viewed by a mortician: profound, unavoidable, natural, and a bit funny.
— KQED

This humane book gently provokes you to wonder: what exactly is your ideal funeral?
— The Times

From Here To Eternity is fascinating, thought-provoking and – who would have guessed? – sometimes funny. Put it on your bucket list.
— The Mail

Caitlin Doughty is razor sharp, and writes about death with exceptional clarity and style. From Here to Eternity manages to be both an extremely funny travelogue and a deeply moving book about what death means to us all.

— Dylan Thuras, co-founder of Atlas Obscura

[Doughty's] fascinating tour of rituals contains liturgies that readers will surely observe as rare, macabre, unbelievable, ancient, and precious—sometimes simultaneously.
— Kirkus

She is the ideal guide on this journey, curious and respectful...Recommended for fans of the author and those with an interest in anthropology and ritual.
— Library Journal

A thought-provoking book about the complicated, fascinating world of funerary practices. Unless you and your friends are immortal, this book pertains to you.
— A. J. Jacobs

In her jocular but reverential tone…
Doughty doesn't offer a simple morbid travelogue;

instead, she digs
into diverse death experiences with deep veneration and examines ties to
socioeconomic, status, female identity, and religion.
— Booklist
Coverage from NPR