Founding Partisans: Hamilton, Madison, Jefferson, Adams and the Brawling Birth of American Politics (Hardcover)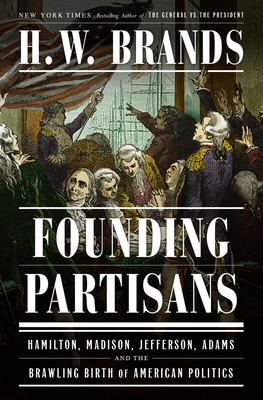 $32.50

Typically Ships in 1 - 2 Days
Description
---
From bestselling historian and Pulitzer Prize finalist H.W. Brands, a revelatory history of the shocking emergence of vicious political division at the birth of the United States.

To the framers of the Constitution, political parties were a fatal threat to republican virtues. They had suffered the consequences of partisan politics in Britain before the American Revolution, and they wanted nothing similar for America. Yet parties emerged even before the Constitution was ratified, and they took firmer root in the following decade. In Founding Partisans, master historian H. W. Brands has crafted a fresh and lively narrative of the early years of the republic as the Founding Fathers fought one another with competing visions of what our nation would be.

The first party, the Federalists, formed around Alexander Hamilton, James Madison and their efforts to overthrow the Articles of Confederation and make the federal government more robust. Their opponents organized as the Antifederalists, who feared the corruption and encroachments on liberty that a strong central government would surely bring. The Antifederalists lost but regrouped under the new Constitution as the Republicans, led by Thomas Jefferson, whose bruising contest against Federalist John Adams marked the climax of this turbulent chapter of American political history.

The country's first years unfolded in a contentious spiral of ugly elections and blatant violations of the Constitution. Still, peaceful transfers of power continued, and the nascent country made its way towards global dominance, against all odds. Founding Partisans is a powerful reminder that fierce partisanship is a problem as old as the republic.
About the Author
---
H. W. BRANDS holds the Jack S. Blanton Sr. Chair in History at the University of Texas at Austin. He has written more than a dozen biographies and histories, including The General vs. the President, a New York Times bestseller, and Our First Civil War, his most recent book. Two of his biographies, The First American and Traitor to His Class, were finalists for the Pulitzer Prize.
Praise For…
---
A Kirkus Reviews Best History Book of 2023

"A compelling retelling...[Brands's] industry is intimidating, as is his ability to blend efficient research with solid prose. Brands puts these to good use in Founding Partisans."—Washington Post

"Founding Partisans reads less like a work of history than a journalist's insider account of high politics, except here the intemperate, backbiting quotations come from sources who are safely dead rather than anonymous."—Wall Street Journal

"The author writes with a sharp and absorbing style, turning what could be a fairly dry topic into a highly readable tale worthy of a cable miniseries with backstabbing characters, high drama, shady deals, and huge egos all clashing to determine the course of the new country. For anyone who thinks that gridlock and partisan machinations are a recent development, this book will quickly lay those misconceptions to rest."—New York Journal of Books

"Mr. Brands has a genius for plotting out real events; a novelist could hardly do better""—New York Sun

"As H.W. Brands reminds us in this absorbing new book, partisanship is an ancient, indeed perennial, force in human affairs. From the early hours of the Republic, Americans of good will have struggled to ensure that party feeling be not reflexive but reflective. On that distinction, the Founders understood, hangs the fate of popular government."—Jon Meacham, Pulitzer-Prize winning author of American Lion

"An essential book for understanding the foundation of American partisanship."—Kirkus Reviews *Starred Review*

"Revolutionary War buffs will relish this."—Publishers Weekly

"Brands' storytelling prowess preserves the debaters' individual personalities and clearly constructs the grand narrative of the Convention's crafting of one of the political world's greatest documents."—Booklist