Creeps Suzette (Bed-and-Breakfast Mysteries) (Mass Market)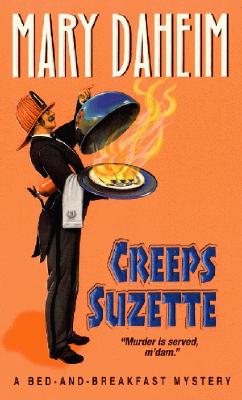 $6.99
Email or call for price.
Description
---
The off-season blahs, a pyromaniacal mom, and a recently retired husband who is constantly underfoot have poor Judith McMonigle Flynn going stir crazy at Hillside Manor. So the harried R&B hostess leaps at cousin Renie's suggestion that Judith accompany her to Creepers—the stately estate of kindly old Leota Burgess. The wealthy senior is certain that someone is determined to do her in for money—most likely one of her disreputable relatives—and Judith and Renie have agreed to look into her allegations. And when they stumble upon Leota's bruised but still breathing body at the foot of the grand staircase, they realize the old lady's fears may be well-founded. But the decidedly dead corpse lying on top of Leota—his head bashed flatter than the proverbial French pancake—suggests that there's more to these homicidal doings than meets the eye. And now it's up to the cousins to follow the clues to the creep who's creeping around Creepers with murder on the mind.
About the Author
---
Mary Richardson Daheim is a Seattle native with a communications degree from the University of Washington. Realizing at an early age that getting published in books with real covers might elude her for years, she worked on daily newspapers and in public relations to help avoid her creditors. She lives in her hometown in a century-old house not unlike Hillside Manor, except for the body count. Daheim is also the author of the Alpine mystery series.