Eater (Mass Market)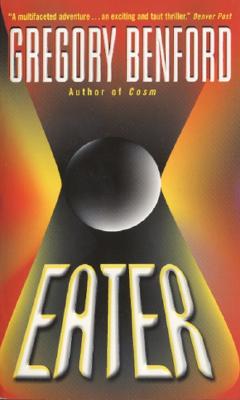 $7.99
Email or call for price.
Description
---
Impending personal tragedy is dimming the brilliant light of Dr. Benjamin Knowlton's world. On the threshold of their greatest achievement, the renowned astrophysicist's beloved wife and partner -- ex-astronaut-turned astronomer -- is dying.
But something looms alarningly on the far edge of the solar system: at once a scientific find of unparalleled importance that could ensure the Knowltons' immortality, and a potential earth-shattering cataclysm that dwarfs their private one. For Benjamin and Channing have discovered "Eater," an eons-old black hole anomaly that devours stars and worlds. Yet its most awesome and devasting secrets are still to be revealed...and feared.
About the Author
---
Gregory Benford is a professor of physics at the University of California, Irvine. He is a Woodrow Wilson Fellow, and was Visiting Fellow at Cambridge University. and in 1995 received the Lord Prize for contributions to sciences. His research encompasses both theory and experiments in the fields of astrophysics and plasma physics. His fiction has won many awards, including the Nebula Award for his novel Timescape. Dr. Benford makes his home in Laguna Beach, California.