Tabula Rasa: Volume 1 (Hardcover)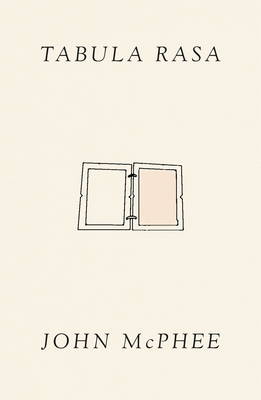 $28.00

Typically Ships in 1 - 2 Days
Description
---
A literary legend's engaging review of his career, stressing the work he never completed, and why.

Over seven decades, John McPhee has set a standard for literary nonfiction. Assaying mountain ranges, bark canoes, experimental aircraft, the Swiss Army, geophysical hot spots, ocean shipping, shad fishing, dissident art in the Soviet Union, and an even wider variety of other subjects, he has consistently written narrative pieces of immaculate design.

In Tabula Rasa, Volume 1, McPhee looks back at his career from the vantage point of his desk drawer, reflecting wryly upon projects he once planned to do but never got around to—people to profile, regions he meant to portray. There are so many examples that he plans to go on writing these vignettes, an ideal project for an old man, he says, and a "reminiscent montage" from a writing life. This first volume includes, among other things, glimpses of a frosty encounter with Thornton Wilder, interrogative dinners with Henry Luce, the allure of western Spain, criteria in writing about science, fireworks over the East River as seen from Malcolm Forbes's yacht, the evolving inclinations of the Tower of Pisa, the islands among the river deltas of central California, teaching in a pandemic, and persuading The New Yorker to publish an entire book on oranges. The result is a fresh survey of McPhee's singular planet.
About the Author
---
John McPhee was born in Princeton, New Jersey, and was educated at Princeton University and Cambridge University. His writing career began at Time magazine and led to his long association with The New Yorker, where he has been a staff writer since 1965. Also in 1965, he published his first book, A Sense of Where You Are, with Farrar, Straus and Giroux, and in the years since, he has written over 30 books, including Oranges (1967), Coming into the Country (1977), The Control of Nature (1989), The Founding Fish (2002), Uncommon Carriers (2007), and Silk Parachute (2011). Encounters with the Archdruid (1972) and The Curve of Binding Energy (1974) were nominated for National Book Awards in the category of science. McPhee received the Award in Literature from the Academy of Arts and Letters in 1977. In 1999, he was awarded the Pulitzer Prize for Annals of the Former World. He lives in Princeton, New Jersey.
Praise For…
---
Praise for Tabula Rasa

"It's not faint praise to say [McPhee] is still more pleasingly consistent than any other writer working. There is never a dud metaphor, never a cliché . . . McPhee collapses the distance between man and métier as he rarely has before." —Mark Oppenheimer, The Washington Post

It is telling that McPhee's random exercise in notebook-emptying proves a more pleasant read than most writers' fully formed projects . . . In writing Tabula Rasa, McPhee, a legend of what is now often called creative nonfiction, found a replenishment of another quality that can lead to a long life: fun." —Chris Vognar, Los Angeles Times

"An insightful book by a master of literary nonfiction . . . As he explores what might have been, Mr McPhee also proves how enjoyable it can be to spend time with such an expert storyteller." —The Economist

"What do you do when your writing career lasts seven decades but you haven't said everything you once thought about saying? If you're John McPhee, you crack open your notebooks and give fans a taste of the stories you never wrote . . . Tabula Rasa demonstrates just how broad McPhee's 'tabula' has always been. He's like an NBA star who always has the green light to shoot." —Rob Merrill, Associated Press

"The cogency, potency, and temperance of [McPhee's] voice never waver . . . A gem from an exemplar of narrative nonfiction." —Kirkus Reviews (starred review)

"McPhee's gift for language is on full display . . . A revealing compendium of curios from a first-rate writer." —Publishers Weekly

Praise for John McPhee

"McPhee's sentences are born of patience and attention: he seems to possess a pair of eyes with the swivel, zoom and reach of a peregrine falcon's, and a pair of ears with the recording ability of a dictaphone." — Robert Macfarlane, The Guardian

"McPhee has always relied on prose that is fact-rich, leisurely, requiring a certain readerly patience with scientific and geographical description, and nearly always enthralling . . . For over half a century . . . [McPhee] has been writing profiles of scientists, eccentrics and specialists of every stripe. All are exceptional at what they do. So, too, is their discerning chronicler." —Michael Dirda, The Washington Post

"McPhee has built a career on . . . small detonations of knowledge. His mind is pure curiosity: It aspires to flow into every last corner of the world, especially the places most of us overlook . . . In the grand cosmology of John McPhee, all the earth's facts touch one another—all its regions, creatures and eras." —Sam Anderson, The New York Times Magazine