Watermark (FSG Classics) (Paperback)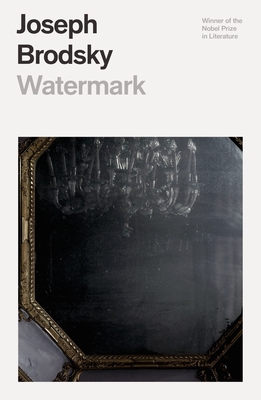 $16.00

Usually Ships in 1-5 Days
Description
---
In this brief, intense, gemlike book, equal parts extended autobiographical essay and prose poem, Joseph Brodsky turns his eye to the seductive and enigmatic city of Venice. A mosaic of forty-eight short chapters—each recalling a specific episode from one of his many visits there (Brodsky spent his winters in Venice for nearly twenty years)—Watermark associatively and brilliantly evokes one city's architectural and atmospheric character.

Brodsky writes in Watermark that water "stores our reflections for when we are long gone." This reissued edition of one of Brodsky's most important titles, on the occasion of the late Nobel laureate's eightieth birthday, allows the reader to visit the canals of Brodsky's Venice and rediscover the reflection of the writer himself.
About the Author
---
Joseph Brodsky (1940-1996) came to the United States in 1972, an involuntary exile from the Soviet Union. He received the Nobel Prize in Literature in 1987 and served as Poet Laureate of the United States in 1991 and 1992.
Praise For…
---
"We read Watermark enraptured by its gallant attempt to distill a precious meaning from life's experience--to make a spot on a globe a window into universal circumstance, and to fashion of one's personal chronic tourism a crystal whose facets reflect an entire life, with exile and ill health glinting at the edges of planes whose direct glare is sheer beauty." —John Updike, The New Yorker

"Praising Venice and its architecture as a triumph of the visual, the Nobel laureate uses his visits there as a touchstone to meditate on life's unpredictability, and on the appetite for beauty, death, myth, and modern art . . . In his wayward forays amid canals, streets, and cathedrals barnacled with saints, the eternal Venice shimmers through the fog, battered yet resplendent." —Publishers Weekly

"Brodsky's description of his 'version of Paradise' has all the vividness and associative brilliance of a lyric poem . . . Watermark is a gracefully idiosyncratic work, one that obliquely mingles the author's own self-portrait with that of 'this Penelope of a city, weaving her patterns by day and undoing them by night, with no Ulysses in sight. Only the sea.'" —James Marcus, The New York Times Book Review

"[This is a] short prose-exercise by Nobelist Brodsky about Venice, his many wintertime trips there, and [the city's] enchantment and ironies and visual splendors. Brodsky has piquant ideas about space and time (see his Less Than One) that lend interesting angles to his Venice-for-visitors: ideas about water, light, and brick ('an alternative order of flesh, not raw of course, but scarlet and made up of small, identical cells. Yet another of the species' self-portraits at the elemental level, be it a wall or a chimney')." —Kirkus Reviews