Slaves in the Family (FSG Classics) (Paperback)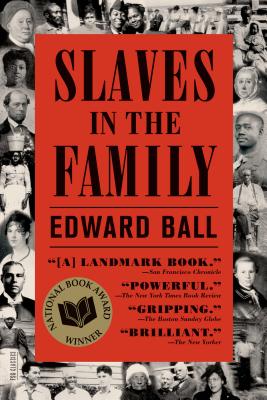 $20.00
Usually Ships in 1-5 Days
Description
---
Fifteen years after its hardcover debut, the FSG Classics reissue of the celebrated work of narrative nonfiction that won the National Book Award and changed the American conversation about race, with a new preface by the author

The Ball family hails from South Carolina—Charleston and thereabouts. Their plantations were among the oldest and longest-standing plantations in the South. Between 1698 and 1865, close to four thousand black people were born into slavery under the Balls or were bought by them. In Slaves in the Family, Edward Ball recounts his efforts to track down and meet the descendants of his family's slaves. Part historical narrative, part oral history, part personal story of investigation and catharsis, Slaves in the Family is, in the words of Pat Conroy, "a work of breathtaking generosity and courage, a magnificent study of the complexity and strangeness and beauty of the word 'family.'"
About the Author
---
Edward Ball is the author of works of nonfiction including Slaves in the Family, which won the National Book Award. Born and raised in the South, he attended Brown University and received his MFA from the University of Iowa before coming to New York and working as an art critic for The Village Voice. He lives in Connecticut and teaches writing at Yale University.
Praise For…
---
"Powerful." —The New York Times Book Review

"Gripping." —The Boston Globe

"Brilliant." —The New Yorker

"A landmark book." —San Francisco Chronicle

"Everyone should read and learn from this luminous book...[Slaves in the Family] is not only honest in its scrupulous reporting but also personal narrative at its finest." —San Francisco Chronicle

"Outside Faulkner, it will be hard to find a more poignant, powerful account of a white man struggling with his and his nation's past." —The Atlanta Journal-Constitution

"Much more than bare history...It's the human encounters, and the live, breathing juxtaposition of past and present, that give [Edward Ball's] book its vibrancy and importance." —Detroit Free Press

"A masterpiece . . . It is a work about slaves in the family. But it is also a large omnium-gatherum of enchanting fireside anecdotes, secrets teased out of reluctant fragments from the remote past, the real lives of blacks and whites whose stories had been lost in the disintegrating churn of time until Edward Ball's patient reconstructions." —The Raleigh News & Observer

"[An] unblinking history not only of [Edward Ball's] ancestors but also of the people they held as slaves . . . It reminds us of our common humanity and of the ties that still bind us, no matter what the wounds of the past." —The Philadelphia Inquirer