Blackwood Farm (Vampire Chronicles #9) (Mass Market)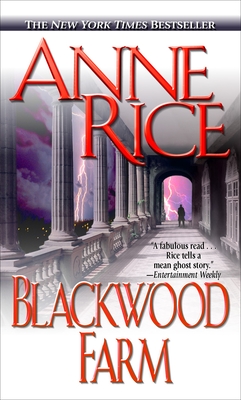 $8.99
Email or call for price.
Other Books in Series
This is book number 9 in the Vampire Chronicles series.
Description
---
Perennial bestseller Anne Rice fuses her two uniquely seductive strains of narrative—her Vampire legend and her lore of the Mayfair witches—to give us a world of classic deep-south luxury and ancestral secrets.

Welcome to Blackwood Farm: soaring white columns, spacious drawing rooms, bright, sun-drenched gardens, and a dark strip of the dense Sugar Devil Swamp. This is the world of Quinn Blackwood, a brilliant young man haunted since birth by a mysterious doppelgänger, "Goblin," a spirit from a dream world that Quinn can't escape and that prevents him from belonging anywhere. When Quinn is made a Vampire, losing all that is rightfully his and gaining an unwanted immortality, his doppelgänger becomes even more vampiric and terrifying than Quinn himself.

As the novel moves backwards and forwards in time, from Quinn's boyhood on Blackwood Farm to present day New Orleans, from ancient Athens to 19th-century Naples, Quinn seeks out the legendary Vampire Lestat in the hope of freeing himself from the spectre that draws him inexorably back to Sugar Devil Swamp and the explosive secrets it holds.

A story of youth and promise, of loss and the search for love, of secrets and destiny, Blackwood Farm is Anne Rice at her mesmerizing best.
About the Author
---
Anne Rice is the author of thirty-seven books, including the Vampire Chronicles, the Lives of the Mayfair Witches, and the Wolf Gift book series. Rice was born in New Orleans in 1941 and grew up there and in Texas. She lived in San Francisco with her husband, the poet and painter, Stan Rice until 1988, when they returned to New Orleans to live with their son, Christopher. In 2006, Rice moved to Rancho Mirage, California. She died in 2021.
Praise For…
---
"Rice breathes new life into the long-running Vampire Chronicles with the tale of Quinn Blackwood, a young vampire haunted by a menacing doppelganger….Rather than extrapolating from previous Vampire Chronicles, the latest presents a completely fresh story, a gripping gothic yarn that revives the series." -- Booklist

"Rice's books have always had a sexy edge, and she's not gone stale." -- Metro Weekly (Washington D.C.)

"At least as good as Rice's earliest novels because she centers her story on new characters with interesting stories of their own. Using lush, voluptuous prose, Rice tells a complex and mesmerizing story. Recommended." -- Library Journal

"Blood refreshed for Rice: Vampiric intrigue returns in Blackwood. Blackwood Farm is strong and continues the return to form for Rice that began with Merrick." -- The Denver Post

"Blackwood Farm is Anne Rice's best book in years. In fact, it may be necessary to go back to the initial trio of vampire novels to find one that flows with as much grace and continuity. Not only is it beautifully descriptive; it is wonderfully scripted -- with all sorts of unexpected turns…. Rice fires all the weapons in her storyteller's quiver -- including several kinky, sexually explicit scenes. She uses surprisingly short chapters, most ending with a suspenseful note that practically begs the reader to move on for just one more page." -- Miami Herald

"Quinn's story is beautifully haunting. His tale is like a curiosity shop, filled with lovely and unusual things…. There is an intimacy to Blackwood Farm that makes readers feel as though they are an important part of Quinn's world. And it's a world they won't want to leave." -- Detroit Free Press

"Classic Anne Rice…hard to put down… Fans of Rice will enjoy this novel, since it is a return to the form that originally drew so many into her bizarre subworld of blood drinkers and witches in the first place." -- United Press International

"Blackwood Farm is a collection of unexpected twists and turns. Rice implements all of her tricks -- spirits, ghosts, vampires, witches, strong family bonds, platonic and forbidden romantic love. The finale should elicit a squeal of excitement from readers who thought Rice was merely going through the motions. Luckily, that lull has passed. Blackwood Farm closes with enough unearthed family secrets to fill another novel and a cliffhanger that promises a sequel." -- The Charlotte Observer

Praise for Anne Rice:
"Rice's strengths as a writer [include] her knack for colourful characters, her loving attention to historical detail [and] her imaginative exploration of myth and mysticism." -- The Globe and Mail

"[Merrick] is a book where Rice's two worlds -- of witches and vampires -- finally collide." -- Ottawa Citizen