A World Lit Only by Fire: The Medieval Mind and the Renaissance - Portrait of an Age (Paperback)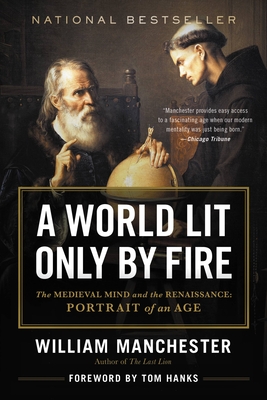 $17.99
Email or call for price.
Description
---
A "lively and engaging" history of the Middle Ages (Dallas Morning News) from the acclaimed historian William Manchester, author of The Last Lion. 

From tales of chivalrous knights to the barbarity of the Inquisition and the misery of the Black Death, no era has been a greater source of awe, horror, and wonder than the Middle Ages. In graceful prose, and with the authority of his extraordinary gift for narrative history, William Manchester leads us from a civilization teetering on the brink of collapse to the grandeur of its rebirth during the Renaissance, a dense explosion of energy that spawned some of history's greatest poets, philosophers, painters, adventurers, and reformers, as well as some of its most spectacular villains. The result is an unforgettable journey into the medieval mind, as Manchester ingeniously re-creates the lives of ordinary people and offers vivid portraits of the era's most astonishing figures, such as Galileo, Machiavelli, Anne Boleyn, and Ferdinand Magellan.

"Manchester provides easy access to a fascinating age when our modern mentality was just being born." —Chicago Tribune
About the Author
---
William Manchester was a hugely successful popular historian and biographer whose books include The Last Lion, Volumes 1 and 2, Goodbye Darkness, A World Lit Only by Fire, The Glory and the Dream, The Arms of Krupp, American Caesar, The Death of the President, and assorted works of journalism.
Praise For…
---
"Manchester has succeeded in bringing a lively, thoughtful order to a time when humankind was emerging from a prolonged and profound period of intellectual lethargy. If textbooks were written like this, we would all know more about the past."—David Holahan, San Francisco Chronicle

"Lively and engaging, full of exquisite details and anecdotes that transform this period — usually murky — into a comprehensive tableau."—Dallas Morning News

"A captivating, marvelously vivid popular history that humanizes the tumultuous span from the Dark Ages to the dawn of the Renaissance."—Publishers Weekly