Deep Delta Justice: A Black Teen, His Lawyer, and Their Groundbreaking Battle for Civil Rights in the South (Hardcover)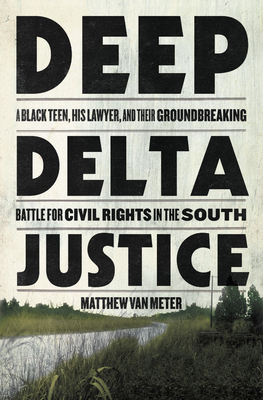 $28.00

Usually Ships in 1-5 Days
Description
---
The book that inspired the documentary A Crime on the Bayou

2021 Chautauqua Prize Finalist

The "arresting, astonishing history" of one lawyer and his defendant who together achieved a "civil rights milestone" (Justin Driver).

In 1966 in a small town in Louisiana, a 19-year-old black man named Gary Duncan pulled his car off the road to stop a fight. Duncan was arrested a few minutes later for the crime of putting his hand on the arm of a white child. Rather than accepting his fate, Duncan found Richard Sobol, a brilliant, 29-year-old lawyer from New York who was the only white attorney at "the most radical law firm" in New Orleans. Against them stood one of the most powerful white supremacists in the South, a man called simply "The Judge."

In this powerful work of character-driven history, journalist Matthew Van Meter vividly brings alive how a seemingly minor incident brought massive, systemic change to the criminal justice system. Using first-person interviews, in-depth research and a deep knowledge of the law, Van Meter shows how Gary Duncan's insistence on seeking justice empowered generations of defendants-disproportionately poor and black-to demand fair trials. Duncan v. Louisiana changed American law, but first it changed the lives of those who litigated it.
About the Author
---
Matthew Van Meter works with people whose voices have been ignored or silenced, both as a journalist and as the Assistant Director of Shakespeare in Prison. His reporting on criminal justice has appeared in The Atlantic and The New Republic, and he is currently editing the first critical edition of Shakespeare written entirely by incarcerated people. Raised Quaker on the East Coast, he now lives in Detroit.
Praise For…
---
"A legal saga with an emphasis on storytelling, it's a valuable contribution to the literature on the civil rights movement and the ongoing fight against white supremacy."
 
 —Andru Okun, Washington Post

"A seminal work of impeccable scholarship."—Library Journal, starred

"Excellent debut...readers will be
struck by how many of the issues involved-voter suppression, public funding for
private schools, racial inequalities in the criminal justice system-are still
being legislated today."—Publisher Weekly, starred review

"This history revisits the prosecution of Duncan on a charge of battery, after he touched a white boy's arm while intervening in a fight...Van Meter argues that the case was an exemplar of a "criminal procedure revolution" that brought federal standards to state courts."—New Yorker, Briefly Noted

"Matthew Van Meter dives into great detail through interviews, research
and a rich knowledge of the law to reveal the society as well as the men
subject to a justice system in need of systemic change."—Observer

"An examination of a
1966 racial confrontation and its aftermath, which "would help dismantle the
infrastructure of white supremacy that had strangled [a rural Louisiana]
community for centuries". . . Will appeal to admirers of Bryan Stevenson
. . . Timely reading."—Kirkus

"Van Meter's narrative and characters come alive to illustrate a pivotal time in American justice. The extraordinary details he gleans from his research immerse readers in the climate and culture of the era. Readers drawn to Bryan Stevenson's Just Mercy will find this book a similarly engaging reminder that the justice system is ever-evolving."
 —Booklist

"Eloquent..[and] poignant."—The National Book Review

"Deep Delta Justice is an uncommonly good true story told uncommonly well. Based on extensive reporting and first-rate historical research, it presents an unforgettable account of a landmark civil rights lawsuit that culminated in a Supreme Court decision affirming the right to a jury trial in most criminal cases. Van Meter's narrative, which takes more twists and turns than the Mississippi, is suspenseful, infuriating, and sometimes funny. This is a wonderful book, worthy of a permanent place in the literature of the American civil rights movement."—Patricia O'Toole,The Moralist: Woodrow Wilson and the World He Made and When TrumpetsCall: Theodore Roosevelt after the White House

"The story of Deep Delta Justice begins in 1966, when a Black teenager in Louisiana named Gary Duncan attempts to break up a fight. His trouble begins when he puts his hand on a white child. Van Meter traces how this incident and the trial that followed, Duncan v. Louisiana, eventually led to a major Supreme Court decision about one's right to a jury trial."—LitHub

"Deep Delta Justice provides the arresting, astonishing history of a racial conflict that began on Louisiana's backroads and resulted in a momentous Supreme Court victory for all Americans. Pairing an investigative journalist's probing research with a novelist's eye for detail, Matthew Van Meter offers the definitive backstory of an all-too-often overlooked civil rights milestone."—Justin Driver, Yale Law School, author of The Schoolhouse Gate

"In the spirit of Melissa Fay Greene's classic Praying For Sheetrock, Matthew Van Meter takes readers to one of the most indelible yet obscure battlegrounds of the Civil Rights Movement and shows how grassroots heroism can topple even one of segregation's most fearsome tyrants."
—Samuel G. Freedman, Columbia University Professor of Journalism, author of Breaking the Line

"In his vivid new book Matthew Van Meter takes us into the world of injustice Jim Crow created, where the smallest of touches could destroy a man's life. From that darkness he draws an absorbing story of courage, resistance, and the promise of profound change. Read Deep Delta Justice for the history it recovers - and the hope it holds for our own dark time."—Kevin Boyle, authorof Arc of Justice: A Saga of Race, Civil Rights and Murder in the Jazz Age