In Europe: Travels Through the Twentieth Century (Paperback)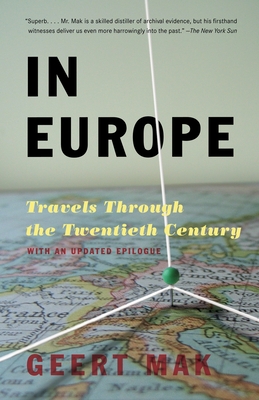 $22.00
Email or call for price.
Description
---
From the First World War to the waning days of the Cold War, a poignant exploration on what it means to be European at the end of the twentieth-century. Geert Mak crisscrosses Europe from Verdun to Berlin, Saint Petersburg to Srebrenica in search of evidence and witnesses of the last hundred years of Europe. Using his skills as an acclaimed journalist, Mak locates the smaller, personal stories within the epic arc of history-talking to a former ticket-taker at the gates of the Birkenau concentration camp or noting the neat rows of tiny shoes in the abandoned nursery school in the shadow of Chernobyl. His unique approach makes the reader an eyewitness to a half-forgotten past, full of unknown peculiarities, sudden insights and touching encounters. Sweeping in scale, but intimate in detail In Europe is a masterpiece.
About the Author
---
Geert Mak is one of The Netherlands' most popular writers. All his previous books became huge bestsellers: De engel van Amsterdam (The Angel of Amsterdam, 1992), Een kleine geschiedenis van Amsterdam (Amsterdam: A Brief Life of the City, 1994), Hoe God verdween uit Jorwerd (Jorwerd: The Death of the Village in late Twentieth-century Europe, 1996), and De eeuw van mijn vader (My Father's Century, 1999).
Praise For…
---
"Superb. . . . Mr. Mak is a skilled distiller of archival evidence, but his firsthand witnesses deliver us even more harrowingly into the past."—The New York Sun"An original, fresh and first-hand documented essay of recent European history. It's an ideal reading for anyone doing 'le grand tour' across the Old Continent."—The Washington Post"Dazzling, imaginative and mesmerizing."—The Tucson Citizen "Subtle. . . It is a testament to Mak's warmth and skill as a writer that even in a chronicle of unrelenting barbarity he has portrayed a humanity worth saving."—Time