Ravensbruck: Life and Death in Hitler's Concentration Camp for Women (Paperback)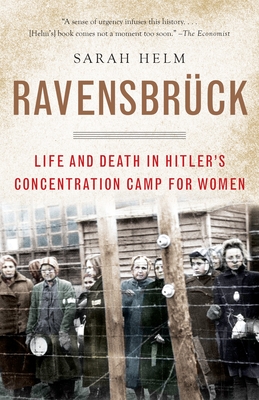 $21.00

Usually Ships in 1-5 Days
Description
---
Months before the outbreak of World War II, Heinrich Himmler—prime architect of the Holocaust—designed a special concentration camp for women, located fifty miles north of Berlin. Only a small number of the prisoners were Jewish. Ravensbrück was primarily a place for the Nazis to hold other inferior beings: Jehovah's Witnesses, Resistance fighters, lesbians, prostitutes, and aristocrats—even the sister of New York's Mayor LaGuardia. Over six years the prisoners endured forced labor, torture, starvation, and random execution. In the final months of the war, Ravensbrück became an extermination camp. Estimates of the final death toll have ranged from 30,000 to 90,000.
        For decades the story of Ravensbrück was hidden behind the Iron Curtain. Now, using testimony unearthed since the end of the Cold War and interviews with survivors who have never talked before, Sarah Helm takes us into the heart of the camp. The result is a landmark achievement that weaves together many accounts, following figures on both sides of the prisoner/guard divide. Chilling, compelling, and deeply necessary, Ravensbrück is essential reading for anyone concerned with Nazi history.
About the Author
---
Sarah Helm is the author of A Life in Secrets: Vera Atkins and the Missing Agents of WWII and the play Loyalty, about the 2003 Iraq War. She was a staff journalist on the Sunday Times (London) and a foreign correspondent on the Independent, and now writes for several publications. She lives in London with her husband and two daughters. 

Praise For…
---
"Brilliantly presented. . . . Elegantly crafted. . . . Under Helm's sympathetic hand, the women of Ravensbrück come alive once again." —The Washington Post

"Moving. . . . Absorbing. . . . When acts of resistance are described, inspirational." —The New York Review of Books

"Fascinating. . . . Achieves just the right balance of judgment, fearlessness and restraint." —San Francisco Chronicle 

"A sense of urgency infuses this history. . . . [Helm's] book comes not a moment too soon." —The Economist

"A profoundly moving chronicle." —The Guardian (London)

"Ravensbrück helps us understand how thoroughgoing an onslaught on humanity Nazi Germany perpetrated, and how central to its identity was its implacable urge to enslave and kill those it considered undesirable. . . . Ravensbrück gives us an agonizing sense of the dark heart of the Nazi ethos." —The New York Times Book Review 

"Illuminates the attempted escapes, executions, and impossible courage of women history conspired to forget." —O, The Oprah Magazine 

"A remarkable and riveting narrative." —Minneapolis Star Tribune

"A groundbreaking, detailed biography. . . . There's much to absorb here, from talks of inhumanely cruel punishment to examples of camaraderie, resilience and courage." —The Jewish Week

"Compelling. . . . Powerful. . . . Devastating. . . . What one is left with at the end of this momentous book is a sense of the power of human nature, both for good and for evil." —The Irish Independent 

"Using material once locked behind the Iron Curtain, Sarah Helm has performed a tremendous feat of historical rescue. This book at last gives full voice to the women of Ravensbrück, the only Nazi concentration camp for women, for the very first time." —Anne Applebaum, author of Gulag, winner of the Pulitzer Prize

"An important cautionary tale. . . . A revelation. . . . Helm describes an amazing social structure that, despite all, arose in that encapsulated place, run for and mostly by women. The courage of the prisoners in the face of overwhelming cruelty was extraordinary." —Lynn H. Nicholas, author of The Rape of Europa, winner of the National Book Critics Circle Award

"Ravensbrück is a book everyone should read. . . . Beautifully written. . . . Helm has done an amazing job with an enormous and enormously painful topic." —PopMatters

"A beautifully written history of events that offers additional insight into Nazism and those caught in its path. . . . This book deserves significant attention." —Publishers Weekly (starred)

"Chronicles the history of this much-ignored site for women. . . . Helm delivers a gripping story of the women who outlasted them and had the strength to share with the author and us sixty years later." —Kirkus Reviews