SEND: Why People Email So Badly and How to Do It Better (Paperback)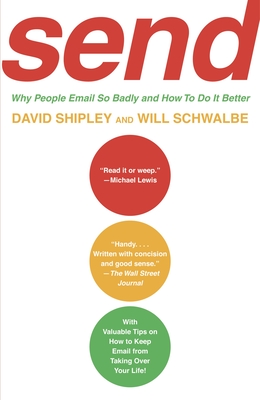 Description
---
Send—the classic guide to email for office and home—has become indispensable for readers navigating the impersonal, and at times overwhelming, world of electronic communication.  Filled with real-life email success (and horror) stories and a wealth of useful and entertaining examples, Send dissects all the major minefields and pitfalls of email. It provides clear rules for constructing effective emails, for handheld etiquette, for handling the "emotional email," and for navigating all of today's hot-button issues.  It offers essential strategies to help you both better manage the ever-increasing number of emails you receive and improve the ones you send.  Send is now more than ever the essential book about email for businesspeople and professionals everywhere.
About the Author
---
David Shipley is the deputy editorial page editor and Op-Ed page editor of The New York Times. Previously, he was a senior presidential speechwriter in the Clinton administration. He lives in New York.

Will Schwalbe is the founder and CEO of Cookstr.com.  Prior to that, he was editor in chief of Hyperion Books and a journalist, writing for such publications as The New York Times, Insight for Asian Investors, and Business Traveller. He lives in New York.
 
www.thinkbeforeyousend.com

David Shipley and Will Schwalbe are available for select readings and lectures. To inquire about a possible appearance, please contact the Random House Speakers Bureau at rhspeakers@randomhouse.com.
Praise For…
---
"Informative, entertaining, thorough, and thoughtful." —Dave Barry, The New York Times Book Review
 
"Read it or weep." —Michael Lewis

"Handy . . . Written with concision and good sense."  —The Wall Street Journal
 
"Witty and wily . . . Fun to read." —O, The Oprah Magazine
 
"With Shipley and Schwalbe's excellent instructions in hand we can email as confidently as we load the dishwasher and turn on the microwave." —New York Review of Books

"This is just the book I've been waiting for." —Bill Bryson
 
"Send can help any of us send emails that build better business relationships and get better results." —Spencer Johnson, M.D., author of Who Moved My Cheese?
 
"Witty and wise . . . Send is far more than Miss Manners for the Web; it's brimming with fascinating insights. . . . [It] should make Shipley and Schwalbe the 'Strunk and White' for the Web." —Daniel Goleman
 
"Send is an easy to read primer, full of practical tips for every emailer." —Bob Eckert, Charman and CEO, Mattel, Inc.
 
 "The definitive tome on email. Send is to email what The Elements of Style is to writing. Thank God it's here at last. (BCC: David Shipley and Will Schwalbe)" —Guy Kawasaki, author of The Art of the Start
 
"A fascinating, entertaining, and, above all, informative look at email—and how it changed the way we communicate with one another. What Strunk and White is to style, this book is to email. It's a terrific read. I highly recommend it." —Charles Osgood