The Reconstruction of Nations: Poland, Ukraine, Lithuania, Belarus, 1569–1999 (Paperback)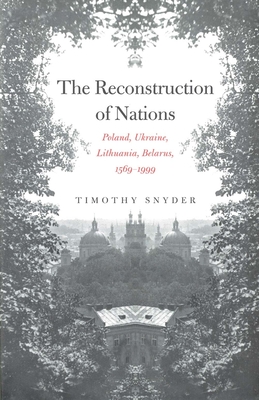 Description
---
From the bestselling author of On Tyranny comes a revealing history of the four modern national ideas that arose from the Polish-Lithuanian Commonwealth
 
"[A] fresh and stimulating look at the path to nationhood."—Robert Legvold, Foreign Affairs
 
"Erudite and engrossing."—Charles King, Times Literary Supplement
 
Modern nationalism in northeastern Europe has often led to violence and then reconciliation between nations with bloody pasts. In this fascinating book, Timothy Snyder traces the emergence of Polish, Ukrainian, Lithuanian, and Belarusian nationhood over four centuries, discusses various atrocities (including the first account of the massive Ukrainian-Polish ethnic cleansings of the 1940s), and examines Poland's recent successful negotiations with its newly independent Eastern neighbors, as it has channeled national interest toward peace.
About the Author
---
Timothy Snyder is assistant professor of history at Yale University.
Praise For…
---
"Charting the passages to nationhood and to national reconciliation in this impossibly complex region is the aim of Timothy Snyder's erudite and engrossing book. . . . An illuminating historical essay. . . . This important book is also elegantly written."—Charles King,
Times Literary Supplement
"[A] fresh and stimulating look at the path to nationhood."—Robert Legvold,
Foreign Affairs
"[Snyder] utilizes poetry, monuments, symbols, and mini-biography, and family-and village-centered micro-history to make his points, and he succeeds in integrating a common-sense, democratic, and tolerant morality into a set of essentially objective, parallel story-lines. . . . A great book for the professional, scholar, student, and curious reader."—David Goldfrank,
The International History Review
"An outstanding read."—John-Paul Himka,
American Historical Review
"A valuable study of how the four nations of the subtitle have arisen, how ethnic cleansing has shaped their histories, and how they now try to make regional peace. Effective charts, well-chosen illustrations, and helpful maps ensure the accessibility of the volume to a wide audience. Highly recommended."—
Choice
"Amid heaps of historical detail, Snyder voices core truths of political theory largely absent from media commentary . . . [his] fastidious historical detail should make all of us more open-minded about which borders in trouble spots are best for living in a future, peaceful world . . ."—
Chronicle of Higher Education
"[A] pioneering book."—George O. Liber, Harvard Ukrainian Studies
"This is one of those rare books that challenges conventional wisdom in a way that is accessible to those most likely to be conventionally wise. . . . Masterfully woven together and presented in a way that will make this book an invaluable resource for students scholars in other fields, and the general public—not to mention a provocative and enjoyable read for east European historians."—Brian Porter,
Slavic Review
"An engaging, sophisticated, and highly readable study that we will be arguing with and against for many years to come. . . . An ambitious and sophisticated work deserving a broad readership. . . . Few works provide such a compelling portrait of the complexity of modern national identity, its greatness, and its crimes. For anyone interested in the 'lands between' Germany and Russia, ethnic relations, or the history of modern nationalism, this book is required reading."—Theodore R. Weeks,
The Russian Review
"The book challenges popular assumptions about the ways that ethnic nations arise, why ethnic cleansing takes place, and how nations can reconcile. . . . This book is a tremendous piece of scholarship. . . . It would be ideal for an academic setting, such as a graduate or advanced undergraduate survey of Polish or Eastern European history. The broad time frame covered makes it appropriate for a variety of topical courses. In addition, Snyder's clear, engaging, and often witty writing style would make this book a good piece of reading for a casual enthusiast of Polish, Soviet, or European history."—Abby Drwecki,
Sarmatian Review
"Utterly remarkable research and sagacious historical insights."—Carlin Romano, 
Philadelphia Inquirer
Winner of the 2003 George Louis Beer Prize given by the American Historical Association
Winner of the 2003
Eastern Review
Prize
Winner of the 2004 American Association for Ukrainian Studies Book Award
"This is by far the best English-language survey of northeastern Europe's multicultural past. Snyder offers us an innovative and unconventional re-reading of the broad narrative of Polish, Lithuanian, and Ukrainian history, exploring and explaining issues of national identity without getting trapped within the categories of nationalist historiography. His ambition to cover four centuries of history was a bold move in today's era of academic specialization, but he has succeeded brilliantly."—Brian Porter, Professor of History, University of Michigan; author of
When Nationalism Began to Hate: Imagining Modern Politics in 19th Century Poland
"This is an excellent book. The research is impressive. Snyder asks the right questions and then delivers."—John Micgiel, executive director, East Central European Center, Columbia University
"
The Reconstruction of Nations
isa brilliant and fascinating analysis of the subtleties, complexities, and paradoxes of the evolution of nations in Eastern Europe. Snyder highlights the success of contemporary leaders of Poland in bringing an end to the centuries of war, conquest, and ethnic cleansing, which have plagued that part of the world. His study has major implications for all of us who want to understand the processes of state collapse and nation-building in the world."—Samuel P. Huntington, Chairman, Harvard Academy for International and Area Studies
"This book is a work of profound scholarship and considerable importance. It represents a highly original approach to a neglected area of Europe—but also has wider implications for all those interested in questions of nationalism and state-building."—Timothy Garton Ash, Director, European Studies Centre, St Antony's College, Oxford, author of
The Polish Revolution