The Martial Arts of Renaissance Europe (Hardcover)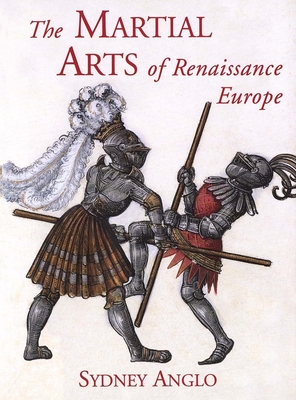 Description
---
Mounted encounters by armored knights locked in desperate hand-to-hand combat, stabbing and wrestling in tavern brawls, deceits and brutalities in street affrays, balletic homicide on the dueling field—these were the martial arts of Renaissance Europe. In this extensively illustrated book Sydney Anglo, a leading historian of the Renaissance and its symbolism, provides the first complete study of the martial arts from the late fifteenth to the late seventeenth century. He explains the significance of martial arts in Renaissance education and everyday life and offers a full account of the social implications of one-to-one combat training.

Like the martial arts of Eastern societies, ritualized combat in the West was linked to contemporary social and scientific concerns, Anglo shows. During the Renaissance, physical exercise was regarded as central to the education of knights and gentlemen. Soldiers wielded a variety of weapons on the battlefield, and it was normal for civilians to carry swords and know how to use them. In schools across the continent, professional masters-of-arms taught the skills necessary to survive in a society where violence was endemic and life cheap. Anglo draws on a wealth of evidence—from detailed treatises and sketches by jobbing artists to magnificent images by Dürer and Cranach and descriptions of real combat, weapons and armor—to reconstruct and illustrate the arts taught by these ancient masters-at-arms.

About the Author
---
Sydney Anglo is research professor of history at the University of Wales.