Energy, the Environment, and Public Policy: Issues for the 1990s (Hardcover)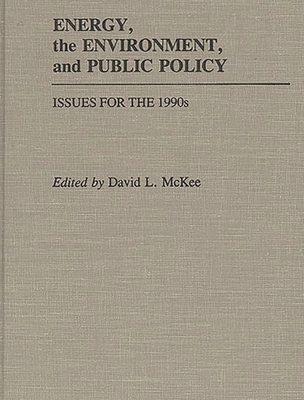 Description
---
With contributions by experts in economics, geography, marketing, agriculture, business, international affairs and more, this book addresses the extent and gravity of the current environmental situation. From toxic industrial and medical waste to acid rain and radioactive waste, from the Alaskan oil spill to the continuing destruction of the rain forests, McKee's focus is on economic welfare. He points out that public and private issues regarding environmental problems have been limited to crisis response. The contributions he has chosen for this volume clarify key issues for formulating policy options toward long-range economic welfare.
The book includes an assessment of environmental policy during the Reagan administration and position statements by a prominent oil executive and a leading environmental conservationist. Other topics covered include: ethics and environmental restraint; financing the clean-up of hazardous waste; the impact of environmental regulation on plant location; solid waste disposal; environmental damage and national security; the decomissioning of nuclear facilities; the greenhouse effect; environmental constraints on economic diversification in small economies; and transboundary issues facing Canada and the United States. This work provides a valuable overview for those concerned with the economic aspects of energy, and the environment, including policy-makers in business, government, and academia.
About the Author
---
DAVID L. McKEE is Professor of Economics in the Graduate School of Management at Kent State University. He is a specialist in economic development and regional economics whose research has been widely published in professional journals in the United States and abroad. He has also authored Schumpeter and the Political Economy of Change and Developmental Issues in Small Island Economies (Praeger, 1991 and 1990) and edited Hostile Takeovers: Issues in Public and Corporate Policy, Growth, Development, and the Service Economy in the Third World and Canadian-American Economic Relations (Praeger, 1989, 1988, and 1988, respectively).