Conversion (Paperback)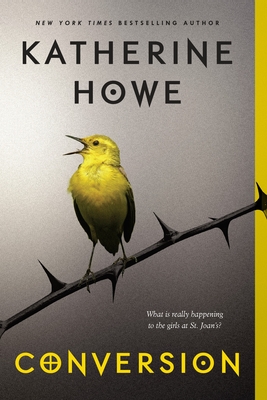 $11.99
Email or call for price.
Description
---
A chilling mystery based on true events, from New York Times bestselling author Katherine Howe.
 
It's senior year, and St. Joan's Academy is a pressure cooker. Grades, college applications, boys' texts: Through it all, Colleen Rowley and her friends keep it together. Until the school's queen bee suddenly falls into uncontrollable tics in the middle of class.

The mystery illness spreads to the school's popular clique, then more students and symptoms follow: seizures, hair loss, violent coughing fits. St. Joan's buzzes with rumor; rumor erupts into full-blown panic.
 
Everyone scrambles to find something, or someone, to blame. Pollution? Stress? Are the girls faking? Only Colleen—who's been reading The Crucible for extra credit—comes to realize what nobody else has: Danvers was once Salem Village, where another group of girls suffered from a similarly bizarre epidemic three centuries ago . . .

Inspired by true events—from seventeenth-century colonial life to the halls of a modern-day high school—Conversion casts a spell.


"[Howe] has a gift for capturing the teenage mindset that nears the level of John Green."—USA Today

"...this creepy, gripping novel is intimately real and layered, shedding light on the challenges teenage girls have faced throughout history."—The New York Times

"A chilling guessing game . . . that will leave readers thinking about the power (and powerlessness) of young women in the past and present alike."—Publishers Weekly, Starred Review
About the Author
---
Katherine Howe is the author of the New York Times bestseller The Physick Book of Deliverance Dane and The House of Velvet and Glass. She is a lecturer in American Studies at Cornell University. She is also a direct descendant of three of the women accused of witchcraft during the Salem Witch trials, one who was hanged and two who survived. Her books have been published around the world in 23 languages to date. Visit her at www.katherinehowe.com and follow her on twitter @KatherineBHowe.
Praise For…
---
* "A chilling guessing game of a novel that will leave readers thinking about the power (and powerlessness) of young women in the past and present alike."--Publishers Weekly, starred review

"A simmering blend of relatable high-school drama with a persistent pinprick of unearthliness in the background."--Booklist

"Compelling."--Kirkus Reviews — various

"Will keep you on the edge of your seat from the moment you pick it up!"—Huffington Post
 
"The author has a gift for capturing the teenage mind-set that nears the level of John Green (The Fault in Our Stars), with the bonus of a strong sense of history with the Salem-set melodrama."—USA Today
 
"Conjures up a spooky story of afflicted modern-day high school girls alternating with the actual account behind the Salem witch trials. Is it all a cry for attention, mass hysteria, or something truly sinister?"—Family Circle

* "A chilling guessing game of a novel that will leave readers thinking about the power (and powerlessness) of young women in the past and present alike."--Publishers Weekly, starred review

"A simmering blend of relatable high-school drama with a persistent pinprick of unearthliness in the background."--Booklist

"Compelling."--Kirkus Reviews — various