The Horse Dancer: A Novel (Paperback)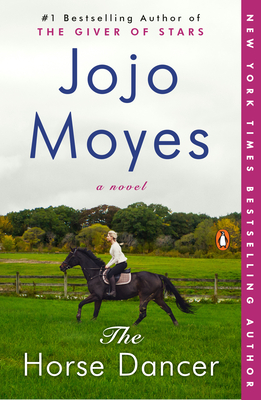 $16.00
Email or call for price.
Description
---
From the New York Times bestselling author of The Giver of Stars and the forthcoming Someone Else's Shoes, a novel about a lost girl and her horse, the enduring strength of friendship, and how even the smallest choices can change everything
 
When Sarah's grandfather gives her a beautiful horse named Boo—hoping that one day she'll follow in his footsteps to join an elite French riding school, away from their gritty London neighborhood—she quietly trains in city's parks and alleys. But then her grandfather falls ill, and Sarah must juggle horsemanship with school and hospital visits.
 
Natasha, a young lawyer, is reeling after her failed marriage: her professional judgment is being questioned, her new boyfriend is a let-down, and she's forced to share her house with her charismatic ex-husband. Yet when the willful fourteen-year-old Sarah lands in her path, Natasha decides to take the girl under her wing.
 
But Sarah is keeping a secret—a secret that will change the lives of everyone involved forever.
About the Author
---
Jojo Moyes is the #1 New York Times bestselling author of The Giver of Stars, Still Me, Paris for One and Other Stories, After You, One Plus One, The Girl You Left Behind, Me Before You, The Last Letter from Your Lover, The Horse Dancer, Silver Bay, The Ship of Brides, and The Peacock Emporium. The Last Letter from Your Lover is now available as a major motion picture on Netflix. She lives with her husband and three children in Essex, England.
Praise For…
---
Praise for The Horse Dancer:

"Reading Jojo Moyes's newest novel, The Horse Dancer, I had to keep reminding myself that I was not, in fact, reading Dickens. . . As a storyteller, Moyes again takes a note from Dickens, moving easily between several storylines, toggling between the past and the present, the urban and the rural, the domestic and the professional, with ease and confidence. . . Moyes's vision of people lifted from despair by nothing more than love (and a little money) is nothing if not poignant." --Washington Post

"There's something in it everyone will love. . . The Horse Dancer is a heartfelt, gut-wrenching, emotional novel filled with moments of joy, excitement, and plenty of tears. In her signature style, Moyes has woven a complicated story about unforgettable characters you'll contemplate long after you finish reading. . . a multi-generational story that will tug at heart strings and leave everyone reaching for the tissues, and for a hug. Trust me, this is the kind of book you'll want to share with the ones you love." --Bustle

"Fans of Moyes (Paris for One and Other Stories, 2016, etc.) know what to expect from her books—big emotions, quirky characters, and a few tears—and this one delivers on all counts." --Kirkus Reviews 

"With a touch of adventure, Moyes offers a lovely comment on the importance of discipline, love, and persistence in our relationships." --Booklist

"A tale brimming with tenderness and romance." —Marie Claire (UK)
 
"An inspiring love story . . . Billy Elliot in jodhpurs." —Daily Mail (London)
 
"A strikingly original tale which captivates from the first page." —Daily Express (London)