Composed: A Memoir (Paperback)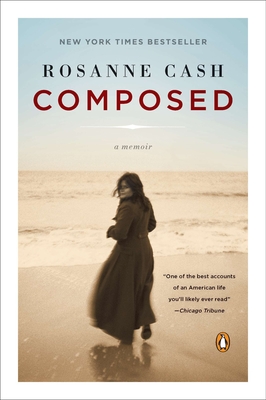 $17.00
Usually Ships in 1-5 Days
August 2010 Indie Next List
---
"Composed is a very personal account of Cash's musical career, her role as a mother, daughter and wife, and her battle with cancer and brain surgery. She eloquently foregrounds her musical career journey as she tenderly evokes the losses of those closest to her and reflects on the moments when she truly connected--as a daughter--to her iconic parents. Rosanne Cash is a theatrical triple threat: a lyrical singer; a choreographer of words; and a skilled thespian who relies on tears or wit at just the right moment."
— Sarah Bagby, Watermark Books, Wichita, KS
Description
---
"One of the best accounts of an American life you'll likely ever read." -Julia Keller, Chicago Tribune

As moving, disarming, and elusive as one of her classic songs, Composed is Rosanne Cash's testament to the power of art, tradition, and love to transform a life. For more than three decades she has been one of the most compelling figures in popular music, having moved gracefully from Nashville stardom to critical recognition as a singer-songwriter and author of essays and short stories. Her remarkable body of work has often been noted for its emotional acuity, its rich and resonant imagery, and its unsparing honesty. Those qualities have enabled her to establish a unique intimacy with her audiences, and it is those qualities that inform her long-awaited memoir.
About the Author
---
ROSANNE CASH has recorded fourteen albums charting twenty-one Top 40 country singles, 11 of which made it to # 1, and two gold records. She has received ten Grammy nominations—winning in 1985—and was nominated this year for "Sea of Heartbreak," a duet with Bruce Springsteen on her current CD,
The List
. Cash achieved the highest chart position of her career with the debut of
The List
. The album, which
Vanity Fair
called "superb," debuted in the Top 5 on the Country Chart, and entered The Billboard 200 at No. 22. Cash is the author of
Bodies of Water
and the children's book
Penelope Jane: A Fairy's Tale
. Her essays and fiction have been published in
The New York Times, Rolling Stone
, and
New York
magazine. She lives in New York City with her husband and children.
Praise For…
---
"Beautifully written meditations on love, death, family and redemption from the celebrated songwriter…Intimate vignettes writ small fill this account, which illuminates her close, complicated relationships with both her mother and her father…Unflinchingly honest and incisive…Warmth and humor characterize the resilience of the author's spirit. An excellent memoir that ends on an encouraging note: 'More to come.' "
–
Kirkus
(Starred Review)
"This work is a rare treat…Cash's memoir sheds clear light on her talent and drive."
– Publishers Weekly (Starred Review)
"[An] engaging memoir…Compelling…Moving."
– Booklist
"Cash's exquisite songwriting talent serves her well as an author…The musician's meditations on the powerful moments that shape a life…border on the poetic."
– Country Living Magazine
"Trust me, you're going to dig this: Composed is a wise and winning chronicle of the making of an artist."
– Colson Whitehead, author of Sag Harbor
"Rosanne Cash's memoir Composed is a classic folk song, full of real heartbreak after real heartbreak, deep love and desperate loss, and the courageous struggle to make sense of the human experience through the beauty and truth of Creative Art."
– Kris Kristofferson
"This is an extraordinarily and dauntingly honest book."
– Elvis Costello
"Book clubs everywhere, here's your next selection! Rosanne Cash has written a lush and glorious memoir that is wise and knowing, humorous and full of hope. The scenes from her life play through like a song, with operatic twists and quiet turns that inevitably lead her home. Composed is powerful and whole and completely unforgettable."
– Adriana Trigiani, bestselling author of the Big Stone Gap series
"An eloquent testimony to the power of song, love, and human resilience. Rosanne writes about life with insight, elegance, and an artist's open heart."
– Daniel J. Levitin, author of This Is Your Brain on Music
"Rosanne Cash is a gifted writer who has led an extraordinary life—but what stays with you from this beautiful book is how she makes the particular universal. She makes us feel the contradictory emotions of being someone's child, someone's lover, and someone's parent. She reminds us of the ecstasy of falling in love and the heartbreak of bad endings. She shares the hardest lessons—facing mortality in our loved ones and in ourselves—as eloquently as she makes us appreciate the thousand small joys in this passing world. Composed is more than the story of her life. It's the story of all our lives."
– Bill Flanagan, author of Evening's Empire
"Composed carries the perfect title. With her cool, crisp prose, Cash never makes a drama out of a crisis. This is no surprise to fans of her nonfiction writing and I envy anyone making the discovery. For lovers of music and literature alike."
– Wesley Stace, author of By George and Misfortune