Googled: The End of the World As We Know It (Paperback)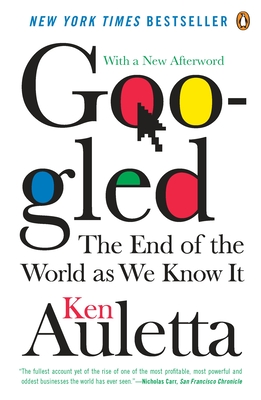 $17.00
Email or call for price.
Description
---
"The fullest account yet of the rise of one of the most profitable, most powerful, and oddest businesses the world has ever seen."
-San Francisco Chronicle

Just eleven years old, Google has profoundly transformed the way we live and work-we've all been Googled. Esteemed media writer Ken Auletta uses the story of Google's rise to explore the future of media at large. This book is based on the most extensive cooperation ever granted a journalist, including access to closed-door meetings and interviews with industry legends, including Google founders Larry Page and Sergey Brin, Marc Andreessen, and media guru "Coach" Bill Campbell. Auletta's unmatched analysis, vivid details, and rich anecdotes illuminate how the Google wave grew, how it threatens to drown media institutions, and where it's taking us next.
About the Author
---
Ken Auletta has written the "Annals of Communications" column and profiles for The New Yorker since 1992. He is the author of eight books, including Three Blind Mice, Greed and Glory on Wall Street, and World War 3.0. In naming him America's premier media critic, the Columbia Journalism Review said, "No other reporter has covered the new communications revolution as thoroughly as has Auletta." He lives in Manhattan with his wife and daughter.
Praise For…
---
"This is an engrossing look at Google and the broader trends in information and entertainment in the Internet age."—
Booklist
, Starred Review
"[A] savvy profile of the Internet search octopus….[and] a sharp and probing analysis of the apocalyptic upheavals in the media and entertainment industries."—Publishers Weekly
"Auletta uncovers some endlessly colorful material and assesses [Google's] prospects critically but fairly."—Kirkus Reviews
"Auletta has captured something critical and true about the tribe that made the enormous success of Google possible. His understanding is critical and essential for anyone trying to predict how long this run of enormous success will continue. Bottom line: Not forever, and maybe not much longer. Here's exactly why."—Larry Lessig, author of Remix: Making Art and Commerce Thrive in the Hybrid Economy and Free Culture: The Nature and Future of Creativity
"A uniquely incisive account of the new Internet revolution, powered by Ken Auletta's unparalleled access. Essential reading."—Marc Andreessen, founder of Netscape and co-founder of Ning
"Ken Auletta has produced the seminal book about media in the digital age. It is a triumph of reporting and analysis, filled with revealing scenes, fascinating tales, and candid interviews. Google is both a driver and a symbol of a glorious disruption in the media world, and Auletta chronicles, in a balance and thoughtful way, both that glory and that disruption."—Walter Isaacson, author of Einstein: His Life and Universe and Benjamin Franklin: An American Life