Days Without End: A Novel (Paperback)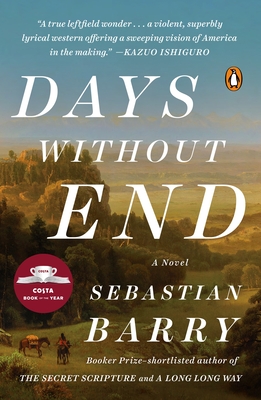 $18.00

Usually Ships in 1-5 Days
Staff Reviews
---
Longlisted for the 2017-Man Booker Prize, this is the story of a young Irish Immigrant who comes to America, enlists in the US army, finds a comrade in arms in John Lole, and the two go on to fight in the Indian and the civil war. Orphans themselves, they create a makeshift family with a young Sioux girl and freed slave. Barry is a masterful storyteller, and this is a poignant, entertaining, and sad narrative capturing a period in American history not often told. Truly worthy and not to be missed. I love this book!
— Carolyn
Description
---
COSTA BOOK OF THE YEAR AWARD WINNER
LONGLISTED FOR THE BOOKER PRIZE

"A true leftfield wonder: Days Without End is a violent, superbly lyrical western offering a sweeping vision of America in the making." —Kazuo Ishiguro, Booker Prize-winning author

From the two-time Booker Prize finalist Sebastian Barry, "a master storyteller" (Wall Street Journal) and author of Old God's Time, a powerful chronicle of duty and family set against the American Indian and Civil Wars

Thomas McNulty, aged barely seventeen and having fled the Great Famine in Ireland, signs up for the U.S. Army in the 1850s. With his brother in arms, John Cole, Thomas goes on to fight in the Indian Wars—against the Sioux and the Yurok—and, ultimately, the Civil War. Orphans of terrible hardships themselves, the men find these days to be vivid and alive, despite the horrors they see and are complicit in.

Moving from the plains of Wyoming to Tennessee, Sebastian Barry's latest work is a masterpiece of atmosphere and language. An intensely poignant story of two men and the makeshift family they create with a young Sioux girl, Winona, Days Without End is a fresh and haunting portrait of the most fateful years in American history and is a novel never to be forgotten.
About the Author
---
Sebastian Barry has won the Costa Novel Award for Days Without End and the Costa Book Award for The Secret Scripture. Barry has also won the Hughes & Hughes Irish Novel of the Year Award and the Walter Scott Prize. His work has twice been short-listed for the Man Booker Prize. He is the author of six previous novels and lives in Ireland.
Praise For…
---
"A haunting archeology of youth . . . Barry introduces a narrator who speaks with an intoxicating blend of wit and wide-eyed awe, his unsettlingly lovely prose unspooling with an immigrant's peculiar lilt and a proud boy's humor. But in this country's adolescence he also finds our essential human paradox, our heartbreak: that love and fear are equally ineradicable."—Katy Simpson Smith, The New York Times Book Review
 
"Days Without End is suffused with joy and good spirit . . . Through Barry, the frontiersman has a poet's sense of language . . . If you underlined every sentence in Days Without End that has a rustic beauty to it, you'd end up with a mighty stripy book."—Sarah Begley, Time

"Mr. Barry's frontier saga is a vertiginous pile-up of inhumanity and stolen love: gore-soaked and romantic, murderous and musical . . . The rough-hewn yet hypnotic voice that Mr. Barry has fashioned carries the novel from the staccato chaos of battle to wistful hymns to youth . . . an absorbing story that sets the horrors of history against the consolations of hearth and home." —Sam Sacks, The Wall Street Journal

"Alternately brutal and folksy . . . Barry's prose can take brilliant turns without sounding implausible coming out of Thomas's mouth. A mordant vein of comedy runs through the book . . . the 'wilderness of furious death' his characters inhabit has a gut-punching credibility."
—Michael Upchurch, The Washington Post

"Barry's magisterial tale of love, war and redemption is one of the year's great novels . . . Visceral violence, wrenching emotion, astutely drawn characters and a compelling narrative voice make for memorable reading."—Minneapolis Star Tribune

"McNulty is a lyrical and companionable narrator for this bloody part of America's history."—NPR 

"A true leftfield wonder: Days Without End is a violent, superbly lyrical western offering a sweeping vision of America in the making, the most fascinating line-by-line first person narration I've come across in years."—Kazuo Ishiguro, Booker Prize winning author of The Remains of the Day and The Buried Giant

"Sebastian Barry had me in no uncertain terms from the first sentence and never let up. And he writes like there's no tomorrow—like there are days without end. He navigates the terrain as a master of fictional conventions and sweeps us along in a big picaresque arc that is just the right vessel for his thematic necessities." —David Guterson, author of Snow Falling on Cedars

"A tour de force of style and atmosphere . . . Evocative of Cormac McCarthy and Charles Portis, Days Without End is a timeless work of historical fiction."—Booklist (Starred Review)

"A lively, richly detailed story . . . A pleasure for fans of Barry and his McNulty stories." –Kirkus Reviews (Starred Review)

"Incredible . . . poetic . . . Remarkable . . . A gorgeous book about love and guilt, and duty to family."—Book Riot's "All The Books!"

"Days Without End is a work of staggering openness; its startlingly beautiful sentences are so capacious that they are hard to leave behind, its narrative so propulsive that you must move on. In its pages, Barry conjures a world in miniature, inward, quiet, sacred; and a world of spaces and borders so distant they can barely be imagined. Taken as a whole, his McNulty adventure is experimental, self-renewing, breathtakingly exciting. It is probably not ended yet."—Alex Clark, Guardian

"A crowning achievement."—Justine Jordan, The Guardian

"Barry writes with a gloomy gloriousness: everyone that crosses his pages is in mortal danger, but there's an elegant beauty even in the most fraught moments."—Library Journal

"Thomas's first-person narration sings with wonder at the beauty of the world and their place in it . . . Sebastian Barry balances gruesome depictions of massacres, near-starvation and Civil War battles with poetic phrasing and exclamations of joy at the wonders of nature and the gift of life . . . painful and beautiful novel."—Shelf Awareness

"A lyrical, violent, touching book that is a war story, and a surprising love story. . . Barry, the Irish author, presents his tale in language that recalls great American writers, from Walt Whitman to Stephen Crane to Cormac McCarthy . . . Barry's lyrical prose is full of fire and tenderness, violence and compassion, providing a sweeping and intimate vision of America's conquest and its continuing search for identity." —Richmond Times-Dispatch

"An absorbing novel… By making all of his characters rounded, full-blooded human beings, [Barry] has accomplished that thing – inclusion, I think we call it now – that art, particularly fiction, does best…The writing is unflaggingly vital; sentence after sentence fragment leaps out with surprises."—The Bay Area Reporter

"Some novels sing from the first line, with every word carrying the score to a searing climax, and Days Without End is such a book. It has the majestic inevitability of the best fiction, at once historical but also contemporary in its concerns ... Days Without End is pitch-perfect, the outstanding novel of the year so far."—Observer

"For its exhilarating use of language alone, Sebastian Barry's Days Without End stood out among the year's novels. Epic in conception but comparatively brief in its extent, this brutal, beautiful book also features the year's most beguiling narrator ... A great American novel which happens to have been written by an Irishman."—The Times Literary Supplement

"The novel comes close to being a modern masterpiece. Written in a style that is as delicate and economical as a spider's web, it builds to a climax that is as brutally effective as a punch to the gut."—The Times (UK)

"Remarkable ... Life-affirming in the truest and best ways."—Stephanie Cross, Daily Mail

"Epic, lyrical and constantly surprising ... a rich and satisfying novel."—Jeff Robson, Independent

"A beautiful, savage, tender, searing work of art. Sentence after perfect sentence it grips and does not let go."—Donal Ryan, author of The Spinning Heart, winner of the Guardian first book award