Size: How It Explains the World (Hardcover)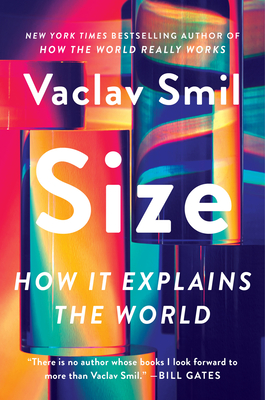 $32.00

Usually Ships in 1-5 Days
Description
---
From the New York Times bestselling author of How the World Really Works, a wide-ranging look at the most fundamental governing principle of our world: size, whose laws, limits, and peculiarities offer the key to understanding health, wealth, and even happiness
"No one writes about the great issues of our time with more rigor or erudition than Vaclav Smil." — Elizabeth Kolbert
To answer the most important questions of our age, we must understand size. Neither bacteria nor empires are immune to its laws. Measuring it is challenging, especially where complex systems like economies are concerned, yet mastering it offers rich rewards: the rise of the West, for example, was a direct result of ever more accurate and standardized measurements.
Using the interdisciplinary approach that has won him a wide readership, Smil draws upon history, earth science, psychology, art, and more to offer fresh insight into some of our biggest challenges, including income inequality, the spread of infectious disease, and the uneven impacts of climate change. Size explains the regularities—and peculiarities—of the key processes shaping life (from microbes to whales), the Earth (from asteroids to volcanic eruptions), technical advances (from architecture to transportation), and societies and economies (from cities to wages). This book about the big and the small, and the relationship between them, answers the big and small questions of human existence:
What makes a human society too big? What about a human being?
Which alternative energy sources have the best chance of scaling and reducing our dependence on fossil fuels?
Why do tall people make more money?
What makes a face beautiful? How about a cathedral?
How can changing the size of your plates help you lose weight?
The latest masterwork of "an ambitious and astonishing polymath who swings for fences" (Wired) Size is a mind-bending journey that turns the modern world on its head. 
About the Author
---
Vaclav Smil is Distinguished Professor Emeritus at the University of Manitoba. He is the New York Times bestselling author of How the World Really Works, as well as more than forty other books on topics including energy, environmental and population change, food production and nutrition, technical innovation, risk assessment, and public policy. A Fellow of the Royal Society of Canada, he has been named by Foreign Policy as one of the Top 100 Global Thinkers.
Praise For…
---
"One of the world's most interesting thinkers investigates the large, the small, and everything in between. ... [Smil] skillfully synthesizes a wealth of material to help explain the world and our place in it. ... Fascinating... interesting and accessible. ... Smil packs entire worlds into entertaining, colorful, pleasing packages." — Kirkus Reviews (starred review)
"[An] interrogation, indeed demolition, of our modish and magical approach to mathematics. ... Wonderfully acerbic. ... Size is an endlessly entertaining career through fascinating territory." — Telegraph (UK)
"Informative and entertaining. ... Perfect reading material for anyone who enjoys a mathematical analysis of the world around them." — Physics World
"Smil traverses the extremes and plenty in between. ... [A] fascinating inquiry." — Booklist
"Meditates on size and its relation to status, intelligence, wealth, and beauty. ... Fascinates." — Publishers Weekly
"This book is ambitious in scope but wonderfully granular in detail—and really will change the way you think about just about everything." — i News
"[It is] reassuring to read an author so impervious to rhetorical fashion and so eager to champion uncertainty. ... Smil's book is at its essence a plea for agnosticism, and, believe it or not, humility—the rarest earth metal of all." — New York Times on How the World Really Works
"No one writes about the great issues of our time with more rigor or erudition than Vaclav Smil." — Elizabeth Kolbert, Pulitzer Prize–winning author of The Sixth Extinction
"A scientific panorama of our well-being and how it can be sustained in our current tumultuous times and beyond. [Smil] aims to combat the widespread 'comprehension deficit' about basic scientific facts, and he seeks to 'explain some of the most fundamental ruling realities governing our survival and our prosperity.' That aim is marvelously achieved. ... An exceptionally lucid, evenhanded study of the scientific basis of our current and future lives." — Kirkus Reviews, starred review, on How the World Really Works
"A compelling, fascinating, and most important, realistic portrait of the world and where it's going." — Steven Pinker on Numbers Don't Lie
"You can agree or disagree with Smil—accept or doubt his 'just the facts' posture—but you probably shouldn't ignore him. ... Provocative but perceptive." — Washington Post on How the World Really Works