Stacey's Remarkable Books (Hardcover)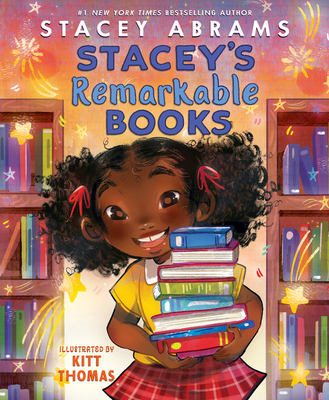 $19.99

Usually Ships in 1-5 Days
Description
---
This NAACP Image Award winner is the companion to the #1 New York Times bestseller Stacey's Extraordinary Words, from political leader Stacey Abrams and artist Kitt Thomas.
Stacey's favorite day of the week is Thursday, when the whole class goes to the library and she gets to lose herself in her beloved books.
On one of these special days, Stacey discovers that a new student named Julie has trouble reading in English, so they begin sharing books and stories to practice. Soon, more students start to join them.
Books take the group on magical adventures and reveal other worlds and cultures—but best of all, they bring them together as friends.
This is another inspiring tale, based on a true story from Stacey Abrams's childhood, about the life-changing power of books.
About the Author
---
Stacey Abrams is the #1 New York Times bestselling author of While Justice Sleeps, Our Time is Now, Lead from the Outside, and Stacey's Extraordinary Words. She is also an entrepreneur and a political leader. A tax attorney by training, she served eleven years in the Georgia House of Representatives, seven as Minority Leader. She has launched multiple organizations devoted to voting rights, training and hiring young people of color, and tackling social issues at the state, national, and international levels. She is the founder of Fair Fight, Fair Count, and the Southern Economic Advancement Project. She has received degrees from Spelman College, the LBJ School of Public Affairs at the University of Texas, and Yale Law School.
Kitt Thomas is a first-generation Lucian American author-illustrator and graduate of the Ringling College of Art and Design with a BFA in visual studies. Kitt's mission is to celebrate Black culture with their drawings and to encourage inclusion in all forms of art, as they found it hard to see themself properly represented in the media they enjoyed growing up. They have worked with such companies as Netflix, Hasbro, and Cartoon Network. They are the #1 New York Times bestselling illustrator of Stacey's Extraordinary Words.
Praise For…
---
"A worthy message delivered with a generous dose of inclusivity." — Kirkus Reviews
"This is a lovely ode to books, libraries, and friendships; one every book-lover will adore, no matter their age." — Book Riot
"A beautiful addition to your child's book collection." — The Root
"In this powerful endorsement for reading, back matter includes a list of books exploring multicultural themes to help kids grow and identify their own dreams. Digital illustrations are vibrant and joyful, showing children actively engaged in making friends and learning. Another positive message about the joy of words."
— Booklist Online
"A book that celebrates the power of stories and libraries to forge a more inclusive society." — School Library Journal
Praise for STACEY'S EXTRAORDINARY WORDS: "Abrams shares her love of words in this picture book drawn from a childhood memory. Readers will see the beginnings of a lifelong fascination with words, as well as the passion for fighting for others. A great addition for collections looking for stories about current political figures, as well as story time with a biography emphasis." — School Library Journal (starred review)
"Charming and powerful." — Booklist
"With warmth and candor, politician and voting rights activist Abrams tells a fictionalized story of her first spelling bee, emphasizing the value of education, of focusing on effort over result, and of standing up to bullying. In competition, Abrams reminds readers, victory can take years to arrive—and integrity and courtesy are always more important." — Publishers Weekly
"This engaging, edifying, delightfully nerdy childhood retrospective from one of today's inspirational leaders speaks volumes." — Kirkus Reviews