The Earthspinner: A Novel (Hardcover)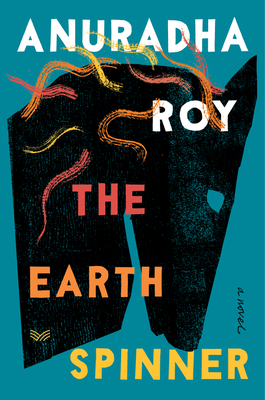 $25.99
Email or call for price.
Staff Reviews
---
Exquisitely written, The Earthspinner reads like a fable, a love store, a myth, and a chronicle of the modern-day struggle between East and West. Propelled by a dream, the Hindu potter Elango sets out to create a terracotta horse. Along the way, he falls in love with a Muslim girl, Zohra, and hopes the "unbridgeable crevasse" between them will close. Set in the '80s, Roy captures the mood of sectarian strife and futile fanaticism in contemporary India today. This is a quiet work of beautiful prose — often mystical and wandering, allowing for much imagination and intrigue on the reader's part. A gem and a delight!
— Carolyn
Description
---
From the critically acclaimed, Booker Prize-nominated author of Sleeping on Jupiter and All the Lives We Never Lived, an incisive and moving novel about the struggle for creative achievement in a world consumed by growing fanaticism and political upheaval.
One night, Elango has a dream that consumes him, driving him to give it shape. The potter is determined to create a terracotta horse whose beauty will be reason enough for its existence. Yet he cannot pin down from where it has galloped into his mind. The Mahabharata? The Trojan horse legend? His anonymous potter-ancestors? Once it's finished, he does not know where his creation will belong. In a temple compound? Gracing a hotel lobby? Or should he gift it to Zohra, the woman he loves, yet despairs of ever marrying.
The astral, indefinable force driving Elango toward forbidden love and creation has unleashed other currents. He unexpectedly falls into a complicated relationship with a neighborhood girl who is beginning her bewildering journey into adulthood. He is suddenly adopted by a lost dog who steals his heart. While Elango's life is changing, the community around him is as well, but it is a transformation driven by inflammatory passions of a different kind. Here, people, animals, and even the gods live on a knife's edge and the consequences of daring to dream are cataclysmic.
Moving between India and England, The Earthspinner reflects the many ways in which the East and the West's paths converge and diverge in constant conflict. Anuradha Roy breathes new life into ancient myths, giving allegorical shape to the terrifying war on reason and the imagination waged by increasingly powerful forces of fanaticism. An epic that is a metaphor for our age, The Earthspinner is an intricate, wrenching novel about the transformed ways of loving and living in an increasingly uncertain world.
About the Author
---
Anuradha Roy is the author of An Atlas of Impossible Longing, The Folded Earth, Sleeping on Jupiter, and All the Lives We Never Lived. She is the recipient of many honors and awards, including the DSC Prize for Fiction, the Crossword Prize, and the Tata Book of the Year Award. She has been shortlisted for the International Dublin Literary Award and longlisted for the Man Booker Prize and the Man Asia Prize. Her books have been translated into more than 15 languages. In 2020, she was conferred the Nilimarani Sahitya Samman for Outstanding Contribution to Indian Literature. She works as a graphic designer at Permanent Black, an independent press she runs with Rukun Advani. She lives in Ranikhet, India.
Praise For…
---
"The Earthspinner captures the mood of sectarian strife and futile fanaticism in contemporary India. And yet it is a quiet, gentle work, never gratuitous…Intricate yet intimate, the novel allows imagination to fill the rest – as all good fiction should." — Sana Goyal, The Guardian
"A story of love, loss and longing; tradition, creation and destruction; and the invisible lines that divide humans, animals and the divine...a quiet, gentle work, never gratuitous...Intricate yet intimate, the novel allows imagination to fill the rest – as all good fiction should." — The Guardian
"Roy delivers profound insights on the power of art ... the hideous nature of religious intolerance, and perhaps most sadly, the consequences of pursuing a dream. This is Roy's best to date." — Publishers Weekly (starred review)
"Roy's multilayered novel evokes the craft of pottery with a gentle touch while rendering a moving depiction of the power of guilt." — Booklist (starred review)
"Like Roy's other novels, The Earthspinner uses dreamlike lyricism alongside even-handed description, giving its gradual accumulation of tension a mesmerizing cadence. ... With these various perspectives framing Elango's dreamlike tale, The Earthspinner is a kaleidoscopic glimpse into the fragile web of connections and ruptures, divine convergences and missed opportunities that make up life's unpredictable and breathtaking pattern." — Shelf Awareness
"The literary and mythological references, coupled with Roy's vivid descriptive prose, provide a rich texture to the narrative. The subtle moments of foreshadowing add to the narrative sophistication." — Chandrima Das, The Telegraph
"A quiet and moving work that gathers together an intricate web of modern lives and experiences, but breathes into them the elemental power of mythology, of the natural world, and of human love and hate... Here, both beauty and truth are terrible, incendiary, consuming. But Roy shapes it all with the touch of a seasoned potter, deft and light." — Mandakini Dubey, Biblio
"Deeply resonant with the world of today. The novel is a haunting investigation into grief and loss and the need for creative impulse to rise above it all…about the fragility of the freedoms to live and love the way we want."  — Reader's Digest