Taking Care: The Story of Nursing and Its Power to Change Our World (Hardcover)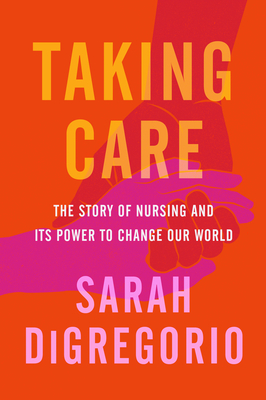 $32.00

Usually Ships in 1-5 Days
Description
---
"DiGregorio's storytelling is pitch-perfect; narrative and nursing, she understands, come from the same place and both are concerned with a deep understanding of character and plot….This is a brilliant book, and DiGregorio is a beautiful writer. Taking Care deserves to be on the reading list for nursing and medical schools, and on the bedside table of all politicians." - New York Times Book Review
In this sweeping cultural history of nursing from the Stone Age to the present, the critically acclaimed author of Early pays homage to the profession and makes an urgent call for change.
Nurses have always been vital to human existence. A nurse was likely there when you were born and a nurse might well be there when you die. Familiar in hospitals and doctors' offices, these dedicated health professionals can also be found in schools, prisons, and people's homes; at summer camps; on cruise ships, and even at NASA. Yet despite being celebrated during the Covid-19 epidemic, nurses are often undermined and undervalued in ways that reflect misogyny and racism, and that extend to their working conditions—and affect the care available to everyone. But the potential power of nursing to create a healthier, more just world endures.
The story of nursing is complicated. It is woven into war, plague, religion, the economy, and our individual lives in myriad ways. In Taking Care, journalist Sarah DiGregorio chronicles the lives of nurses past and tells the stories of those today—caregivers at the vital intersection of health care and community who are actively changing the world, often invisibly. An absorbing and empathetic work that combines storytelling with nuanced reporting, Taking Care examines how we have always tried to care for each other—the incredible ways we have succeeded and the ways in which we have failed. Fascinating, empowering and significant, it is a call for change and a love letter to the nurses of yesterday, today, and tomorrow.
About the Author
---
Sarah DiGregorio is the critically acclaimed author of Early: An Intimate History of Premature Birth and What it Teaches Us About Being Human and Taking Care: The Revolutionary Story of Nursing, coming in May 2023. She is a freelance journalist who has written on health care and other topics for the New York Times, Washington Post, Wall Street Journal, Slate, Insider, and Catapult. She lives in Brooklyn, New York, with her daughter and husband.
Praise For…
---
"Early opens like a medical thriller . . . the heart of DiGregorio's illuminating book isn't just about her family's journey; it's an expansive examination of the history and ethics of neonatology . . . DiGregorio, a food editor and writer, is such a beautiful storyteller, I found myself underlining passages, turning corners of pages and keeping track of the page numbers at the back of the book until I had a hodgepodge of numbers scribbled on top of each other." — New York Times Book Review on EARLY
"DiGregorio's storytelling is pitch-perfect; narrative and nursing, she understands, come from the same place and both are concerned with a deep understanding of character and plot….This is a brilliant book, and DiGregorio is a beautiful writer. Taking Care deserves to be on the reading list for nursing and medical schools, and on the bedside table of all politicians…. It is near impossible to articulate nursing in its vastness, yet Sarah DiGregorio has condensed its profound meaning into a call to arms." — New York Times Book Review
"This probing history of nurses situates the profession as radical, necessary health care—but plagued, too, by structural inequities from sexism to racism." — Vanity Fair
"A capacious look at nurses throughout history, from prehistoric times to the present. . . . DiGregorio's abundant evidence of the crucial and transformative practice of nursing comes through her profiles of community health nurses, first responders, reproductive health providers, nurses turned politicians, and hospice nurses. . . . A well-informed consideration of the intimacy of care." — Kirkus Reviews
"Striking an expert balance between the big picture and intimate portraits of individual caregivers, this is an enlightening study of a crucial yet often overlooked profession." — Publishers Weekly
"DiGregorio succeeds in offering a new, eye-opening perspective on the significance of nursing and nurses' power to better lives." — Booklist
"In precise and approachable prose, Sarah DiGregorio uses a journalist's tools to investigate the most ethical of professions: nursing. Each chapter of Taking Care shows us that ethic up close. But health care isn't perfect; nursing included. Taking Care explores how – if untethered from the profit motive of the medical industrial complex and the classism, sexism, and racism within and foisted upon the profession – nursing has the power to make the world a better place." — Mark Lazenby, Dean and Professor, Sue & Bill Gross School of Nursing, University of California, Irvine
"Taking Care is a revelation. DiGregorio tracks the necessity of caretaking from Neolithic times to our present moment of political struggle and climate change. Through informed hands-on care, patient advocacy, and an ongoing quest for justice, Taking Care shows that nurses make the world a better place."
— Theresa Brown, RN, and New York Times bestselling author of Healing: When a Nurse Becomes a Patient and The Shift: One Nurse, Twelve Hours, Four Patients' Lives.
"In Taking Care, Sarah DiGregorio does the nearly impossible; seamlessly weaving together personal narratives and experiences while crafting a well-documented and researched book on the profession of nursing. DiGregorio doesn't stop with history but includes contemporary exemplars to contextualize the complexities of racism, patriarchy, and gender oppression that shaped and continue to influence the discipline. Drawing from sources across the education, clinical practice, policy, and research spectra, DiGregorio includes quotes from individuals who are nurses, work with nurses, study nurses or nursing to create a complicated and nuanced story of the "most trusted of the health professions."   — Monica R. McLemore RN, MPH, PhD, University of Washington, School of Nursing