The Naked Don't Fear the Water: An Underground Journey with Afghan Refugees (Hardcover)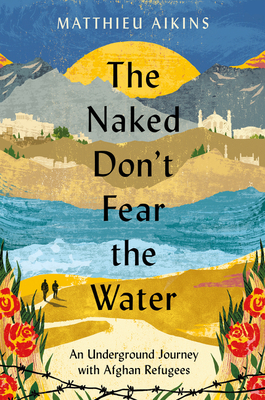 $27.99

Usually Ships in 1-5 Days
Staff Reviews
---
Matthieu Aikins, a Kabul-based Canadian journalist, follows his translator and friend Omar as he flees violence, political instability, and an uncertain future to find refuge in Europe. In a brave act of friendship — and total surrender to the story he is telling — Aikins tears up his passport, disguises himself, and goes underground with Omar on this dangerous "smuggler's road" from Afghanistan to Europe. This totally immersive reporting envelopes the reader, leaving us deeply moved by the profound friendship, the portrayal of the hidden lives of refugees, and the global ties of people risking so much to save themselves. A worthy companion to Exit West and an unforgettable narrative.
— Carolyn
Description
---
A NYTBR Editor's Choice 
"This is a book of radical empathy, crossing many borders – not just borders that separate nations, but also borders of form, borders of meaning, and borders of possibility. It is powerful and humane and deserves to find a wide, wandering readership." — Mohsin Hamid, author of Exit West
In this extraordinary book, an acclaimed young war reporter chronicles a dangerous journey on the smuggler's road to Europe, accompanying his friend, an Afghan refugee, in search of a better future.
In 2016, a young Afghan driver and translator named Omar makes the heart-wrenching choice to flee his war-torn country, saying goodbye to Laila, the love of his life, without knowing when they might be reunited again. He is one of millions of refugees who leave their homes that year.
Matthieu Aikins, a journalist living in Kabul, decides to follow his friend. In order to do so, he must leave his own passport and identity behind to go underground on the refugee trail with Omar. Their odyssey across land and sea from Afghanistan to Europe brings them face to face with the people at heart of the migration crisis: smugglers, cops, activists, and the men, women and children fleeing war in search of a better life. As setbacks and dangers mount for the two friends, Matthieu is also drawn into the escape plans of Omar's entire family, including Maryam, the matriarch who has fought ferociously for her children's survival. 
Harrowing yet hopeful, this exceptional work brings into sharp focus one of the most contentious issues of our times. The Naked Don't Fear the Water is a tale of love and friendship across borders, and an inquiry into our shared journey in a divided world.
About the Author
---
Matthieu Aikins has reported from Afghanistan and the Middle East since 2008. He is a contributing writer for the New York Times Magazine, a contributing editor at Rolling Stone, and has won numerous honors, including the George Polk and Livingston awards. He is a past fellow at Type Media Center, New America, the Council on Foreign Relations, and the American Academy in Berlin. Matthieu grew up in Nova Scotia, and has a master's degree in Near Eastern Studies from New York University. The Naked Don't Fear the Water is his first book.
Praise For…
---
"The Naked Don't Fear the Water is a riveting and heartrending look at the hidden world of refugees that challenged everything I thought I knew about the consequences of war and globalization. It's the most important work on the global refugee crisis to date, and a crucial document of these tumultuous times. It will go down as one of the great works of nonfiction literature of our generation." — Anand Gopal, author of the Pulitzer Prize and National Book Award finalist No Good Men Among the Living
"This is a magnificent book…Aikins writes an absorbing record of an amazing adventure, framed by sympathy with Afghan lives…Avbeautifully written individual story made more meaningful by thoughtful and well-informed insights into a country ravaged by war…Highly recommended."   — Library Journal (starred review)
"The Naked Don't Fear the Water is a uniquely brave and enterprising venture into the heart of emigration, and a tragic witness to our times." — Colin Thubron, New York Times bestselling author of Shadow of the Silk Road and The Amur River
"This is a book of radical empathy, crossing many borders—not just borders that separate nations, but also borders of form, borders of meaning, and borders of possibility. It is powerful and humane and deserves to find a wide, wandering readership." — Mohsin Hamid, author of Exit West
"Riveting…The book shines a humane spotlight on many of the people the author met along the way as well as on the role chance played in their fates, with particularly moving chapters on life within the Greek refugee camp. The narrative is scrupulous and often suspenseful."  — Kirkus Reviews (starred review)
"Matthieu Aikins is that rarest of combinations – an intrepid journalist who writes beautifully. The Naked Don't Fear the Water is a compellingly original piece of work, an unforgettable narrative about one of the great human epics of our day."  — Jon Lee Anderson, author of Che Guevara: A Revolutionary Life
"This book is [Matthieu] Aikins's profound act of love…It has become a cliché to state that a book is "urgent" or "necessary" when it touches on a critical humanitarian issue; almost any book about Afghan migrants would be important right now. But this book is exceptionally well done.…Aikins crafts an expansive, immersive work that reads like the most gripping novel but is all the more compelling because the events are both true and ongoing….A meticulously told story the world needs to hear now more than ever."  — Jessica Goudeau, The New York Times Book Review
"This is a gripping, devastating book, and it must have taken great courage and determination to write. The human story of the "smuggler's road" from Afghanistan to Europe is one of terrible suffering, and Aikins tells it with clarity and simplicity. I could write that The Naked Don't Fear The Water should be given prizes, and no doubt it will, but it seems to me that the best way to honor this book would be for us all to read it and ask ourselves what we can do for the thousands of unknown and unrecognized people who are treading this terrifying path." — Hari Kunzru, author of Red Pill
"The Naked Don't Fear the Water is the most affecting book I have read about the iniquity of the refugee crisis since Exit West. The reporting is totally immersive, without ever losing its clarity, and gives a heartbreaking insight into the lives of normal people taking terrible risks to save themselves. I am amazed by Matthieu Aikins's quiet bravery and willingness to surrender to the story and the danger around him. It's also, among many other things, a book about friendship and the global ties that bind us."  — Sam Knight, author of The Premonitions Bureau
"Timely, personal, and deeply human, this is a riveting look at the struggles of refugees, one of the world's most enduring crises." — Booklist (starred review)
"A heart-wrenching portrait of resilience and ingenuity under the most trying of circumstances." — Publishers Weekly